Friday Reload #10: 3 Formulas for a Perfect Headline Plus Templates, Confessions of a $2.2M Funded Startup, Email Marketing Checklist, A Keyword Tool Better Than Google?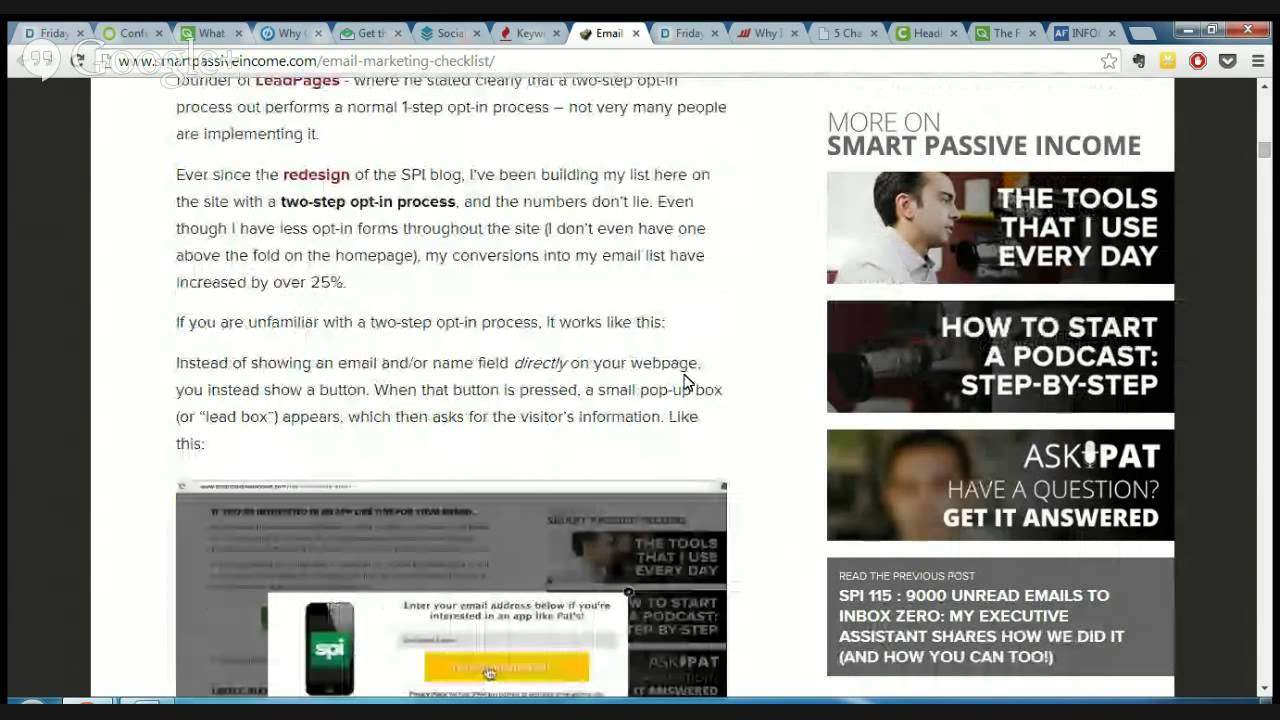 Podcast: Play in new window | Download
Get caught up on what you might have missed in the week with The Friday Reload.  We cut through the fluff and summarize the best posts, news and videos of the week.
For the week of July 11th, 2014

If you haven't seen we are currently 4th in ALL of the business podcasts! Being ahead of people like Pat Flynn is a huge honor. (As of today we have jumped up to 3rd.)
But we need your help.
We are trying to get to number 1 and we know it won't be easy. So we created this massive giveaway to promote the launch. In exchange for you leaving a review we'll be giving away some of our premium products at Web1 such as an ACT Enterprise Account or a 1 year PPC Biz Box subscripton.
Check out this page and then enter to win!
Joe joined us this week on the TriggerCast and shared a few different ways he's increasing revenue in his business. Speaking with Joe he told me "The last week alone one of these tactics generated $5,000 in sales (and we didn't promote anything)". The response has been amazing and a few high level business owners have reached out and said they really liked what Joe is doing. Check it out it's a great interview.
Great News: Total ad investments will jump 5.3% to reach $180.12 billion and achieving 5% growth for the first time since 2004.
The leader in the pack? Mobile advertising. Mobile ads will surpass radio, magazines and newspapers this year. No huge surprise this is due to the increase of time spent on mobile devices. By the end of the year mobile will represent nearly 10% of all media ad spending. It's a good time for you to check out the first episdoe of the TriggerCast Mobile Revolution which covers 3 Common Mistakes with Mobile.
Lookback.io had a very raw and honest post that really pulled back the curtain. Their stats for the past year after developing the Lookback? $2.2M in seed financing, signups from companies like Facebook, LinkedIn and Yahoo and over 30,000 user experiences uploaded.
In the post they share how they got their investment, growth numbers, customers, finances, mistakes and insights.
I've included some of my favorite takeaways below.
A VC on Investing
Gil Dibner taught me this, he said,
"I think of my job as having to be the one throwing stones at you to see where your house shatters. The amount of stones I need tells me if it's a castle or a glasshouse."
The stones are questions, and the shattering house is a founder's inability to answer them. A mediocre VC will ask lots of obvious questions but won't find your weakness. A great VC will ask insightful and hard questions, and generally won't need as many to expose the weakness of your plan. (Gil needed three).
Two Investment Lessons
Don't go for the biggest fish first: meet lower profile people first, learn the process, make your mistakes, and iterate to the top.
The mindset of a VC is "go big or go home". You must convince yourself and them that you're going to be the world's largest company or you won't get an investment.
What Helped Their Growth
Focusing on building a beautiful product has helped us spread it quickly. We focused on a fully-functional and interactive demo on the front page that explains our value offering instantly
Spend Little Money Fast
Dare to use the invested money to speed things up. You can quickly spend a lot of money if you're not careful, but don't blink when discussing smaller expenses, just go. Once an investment is in, you, your time and your energy are suddenly the most limited assets of the company.
Stick To Your Core
Having a single, irreplaceable core feature has allowed us to keep focused on maximizing its potential and discover great use cases for the product.
Explore solutions, don't build features.
We'll feature some quick tidbits from Quicksprout's latest post on emails and content marketing.
Emails are the biggest driver for quality traffic, comments, social media shares and 44% of the blog's revenue comes from email.
Popups account for 81% of the emails collected for the Quicksprouts blog. His sidebar opt-in is the second most effective. A less aggressive option is the Hellobar, which increased email collection rate by roughly 28%.
We all know organic reach on Facebook is dropping, so what's the antidote? Unbounce makes the case for interaction. Interactions between people are the primary driver of conversions on social networks.
User-generated content had an overall stronger impact on conversions than marketer-generated content.
Information-rich interactions increased sales whether the interactions were positive or negative, direct or indirect.
Marketer-generated content only had a measurable effect on driving consumer purchases when it was direct.
Content Should Act as a Vehicle for User Interaction
Think of marketer-generated content as a vehicle to create interactions between users. The content should either aim to get shared in order to expand reach or get commented on in order to increase your conversion rate.
The dilemma? In-depth content retains an audience; bite-size visual content gets shared.
Unbounce recommends embedding 'bite-sized' Facebook posts within a blog post. This is an interesting startegy that I'll have to try in the future.
Summary: each piece of content you create should be to start as many conversations as possible.
Tool Time!
I came across a few different cool tools and software this week all of which are free… so it's tool time!
Seen on ProductHunt, which you can check for comments on it, it makes it simple to see if someone has read your messages. Simple and free.
Posted by Marketing Land, you can now use the Twitter management platform SocialBro for free if you have fewer than 5,000 Twitter contacts. You can find out things such as best time to tweet and who your most influential followers are.
Using the new, and literal, Keyword Tool you can generate up to 750 suggestions for every keyword. It works by using Google Autocomplete to generate revelant long-tail keywords. If you are wondering why autocomplete matters so much, Google themselves say it best.
Autocomplete predictions are automatically generated by an algorithm without any human involvement based on a number of objective factors, including how often past users have searched for a term.
Once again it's another free tool.
Email opt-ins are arguably the most important part of any blog or content marketing startegy. Pat Flynn walks us through a 10 part checklist which I've outlined below. Pat scored an 8 out of 10 on it.
The 10 Step Email Marketing Checklist
1. Opt-in Forms on Your Most Popular Pages (Hint: Don't Guess. Use Your Analytics!)
2. A Two-Step Opt-in Process
3. A Custom Thank You / Please Confirm Page (After Clicking Subscribe)
4. A Custom Thank You / Success Page (After Clicking Link in Email to Confirm)
We tend to use a one step opt-in process so we don't have the double confirm. I have been testing using a personal video welcoming new subscribers to the list.
5. A Custom "Already Subscribed" Page
6. A Killer First Email
This is something I'm personally working on making better.
7. Scannable Content and Isolated Links
"According to my buddy Greg Hickman of Mobile Mixed, 65% of emails are being read from a mobile device."
8. Remind People WHEN and WHY They Subscribed
9. Apply a Global Text Snippet
10. Welcome and Encourage Replied
Sweeney Observation – Mobile Number Opt-ins
How often have you seen a new cool app while on your computer, only to forget about it forever? Okay maybe I'm being dramatic but I don't want to have to run and grab my phone every time I see a new app that seems interesting.
That's why I LOVE what Yix.io and other apps are doing. They have an option for you to enter your mobile phone number and get a link. It's the email opt-in of mobile marketing. Now I can use that link and easily download the app on my own time plus they can market to me using my phone number and a custom audience if they like.
Example from Hipe.im.
If you have a mobile app this is a MUST do in my opinion.
This is what you call thinking like an entreprenuer. James Wedmore posts some of his favorite productivity hacks, most of which revolve around outsourcing a lot of his personal tasks. His focus isn't on saving time but instead conserving energy.
He had his aha while listening to a podcast by Tim Ferriss who said: "Being busy is a form of laziness–lazy thinking and indiscriminate action. Being busy is most often used as a guise for avoiding the few critically important but uncomfortable actions."
A picture of his outsourced cooking.
The post has a lot of the usual recommendations but a few outside the box and overall a good place to start. Check it out and find a thing or two to outsource.
Triple Headed Monster of Headlines
It's a headline triple header, with three great posts coming from ConversionXL, Quicksprout and Crazyegg. We all know how important headlines are; Neil Patel recently stated that "he is spending 30 minutes thinking about each new post title". Let's craft better headlines with these next three posts.
Peep Laja is bringing us what makes a high converting headline.
1. They Have Numbers
Also odd numbers have a 20% higher clickthrough rate.
2. They Have Between 5-9 (or 16-18) Words
This is partially based on the magic number 7, which came from a paper which stated "the number of objects an average human can hold in working memory is 7 ± 2."
3. They Are Negative
Negative headlines perform better as seen in the chart below detailing Outbrain's findings.
Examples of positive words: always, most, best. Examples of negative words: never and worst.
4. They Have Two Parts
Sub-headlines help re-affirm the reason why your reader is on the page and acts as a primer for the story that the page is going to tell.
5. They Are Very, Very Clear
One more graph and examples which should explain this characteristic pretty clearly.
Here are the five headlines types that were tested in the above-cited study
Normal (Ways to Make Drinking Tea More Delightful)
Question (What are Ways to Make Drinking Tea More Delightful?)
How to (How to Make Drinking Tea More Delightful)
Number (30 Ways To Make Drinking Tea More Delightful)
Reader-Addressing (Ways You Need to Make Drinking Tea More Delightful)
This fits in perfect with our other headline themed content.
The best part is quick summary of 9 popular templates, which all feature the inclusion of a benefit.
1. Are you…
"Are You Looking for a Way to Save Over $10,000 off the Price of a New Car?"
2. How To…
"How to Solve the AdWords Puzzle in Just 30 Minutes"
3. Secrets of…
"Secrets of the World's Most Successful Pest Control Business Owners."
4. Give Me XXX Minutes
"Give Me 10 Minutes and I Will Show You How to Save Thousands on Home Repairs."
5. XXX Ways to…
"6 Ways to Improve Your Child's Table Manners By Dinnertime Today."
6. The news headline
You've seen a couple of examples above from tabloids. A marketing example…
"New Technology from Silicon Valley Makes it Easier to Grow Grass."
7. The testimonial
"Finally! I Found the Bed I've Been Looking For!"
8. The offer headline
"33% Off Every Product in the Store."
9. The FREE headline
"Get a FREE engine with a set of new wiper blades."
Click the image for a large infographic by Neil Patel on The Formula for a Perfect Headline.
Qwaya provides this big beauty of an infographic which offers information on all of the targeting choices available to marketers on Facebook.
Click the image for the full infographic by Qwaya.
That will close out our Friday Reload!
Thank you everyone for joining in and I appreciate all the feedback I've been getting via email and comments. Enjoy your weekend and watch out for a minisode or two.  Please take the time to leave a review if you haven't yet.