Friday Reload #17: Amazon Takes on Google, Case Study: Create a Squeeze Page That Converts at 21.7%, How to Connect with VIPs Via Email, Video SEO in a Post-Rich Snippet World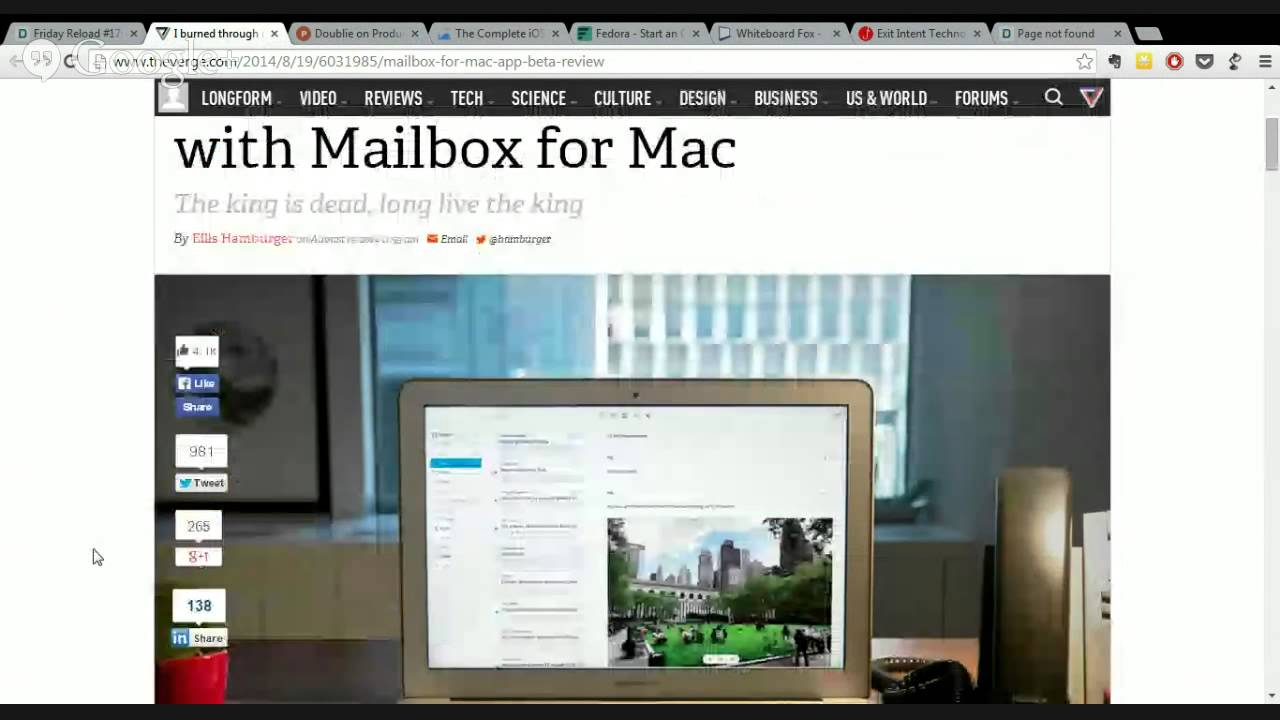 Podcast: Play in new window | Download
Get caught up on what you might have missed in the week with The Friday Reload. Short, sweet and just the meat: we cut through the fluff and summarize the best posts, news and videos of the week.
For the week of August 29th, 2014

Chris Brisson tells us different tricks to increase conversions and optimize your funnel. The recent Infusionsoft Marketer of the Year spills it all with us. His methods have been used by major companies such as Digital Marketer. We've personally implemented some of his tactics and seen huge revenue increases.
Major Takeaways Include:
2 Step Checkout
1 Click Upsell Bumps
Webinars
Optimized Webinar Funnel
Prepare for battle: Amazon Sponsored Links could launch within the year.
Amazon and Google have an interesting relationship that's both competitive and symbiotic. While they may compete in online product search and local delivery services, Amazon is one of Google's largest text ad advertisers and the online retailer gets a cut of click revenues from running Google's AdSense ads on its site.
The Wall Street Journal reports that Amazon is working on a competitive platform to Google AdWords. The platform would be driven by the shopping data Amazon has amassed as the world's largest online retailer. WSJ reports Amazon could begin testing what it's calling the "Amazon Sponsored Links" program later this year. Amazon has this critical information in spades — through its own site and to some extent through Login With Amazon which allows Amazon's 250 million active customers to use their Amazon credentials to make purchases on other web sites.
Facebook seems to be in a crackdown mood recently. They will be punishing pages that use 'click bait' tactics to get you to check out articles.
Here's how Facebook explained they will determine a click-bait headline:
One way is to look at how long people spend reading an article away from Facebook. If people click on an article and spend time reading it, it suggests they clicked through to something valuable. If they click through to a link and then come straight back to Facebook, it suggests that they didn't find something that they wanted. With this update we will start taking into account whether people tend to spend time away from Facebook after clicking a link, or whether they tend to come straight back to News Feed when we rank stories with links in them.

Another factor we will use to try and show fewer of these types of stories is to look at the ratio of people clicking on the content compared to people discussing and sharing it with their friends. If a lot of people click on the link, but relatively few people click Like, or comment on the story when they return to Facebook, this also suggests that people didn't click through to something that was valuable to them.
Facebook cited a survey where 80 percent of participants preferred headlines that helped them decide if they wanted to read the full article before clicking through.
The two predominant ways to link to a website via Facebook have been through Facebook's native link-sharing format and through a link in a photo caption. Facebook is now giving more weight to links posted directly through Facebook, as opposed to a link accompanied by a photo upload:
We've found that people often prefer to click on links that are displayed in the link format (which appears when you paste a link while drafting a post), rather than links that are buried in photo captions. The link format shows some additional information associated with the link, such as the beginning of the article, which makes it easier for someone to decide if they want to click through. This format also makes it easier for someone to click through on mobile devices, which have a smaller screen.

With this update, we will prioritize showing links in the link-format, and show fewer links shared in captions or status updates.
While I found it interesting this also holds true to Facebooks core of always being about user experience. Just how bounce rate can effect SEO, we are seeing similar effects even on Social Media Platforms.
Also it'll be interesting to see the effect on photo vs link posting. I know in the past I've gotten horrible reach when posting a link and decent reach when posting a photo with a link in the copy.
Two Other Facebook News Updates
This new feature allows advertisers to target based on mobile connection: 2G, 3G or 4G.
Facebook Product Marketing Manager Brendan Sullivan announced this in a blog post:
Targeting by mobile network type helps advertisers choose creative that will run smoothly on any given device and connection speed. For example, serving a video ad to people in Indonesia with 2G connections may mean wasted impressions if people are unable to load the video or it buffers for minutes when clicked. Optimizing the creative — for instance, targeting a video campaign to people with high-speed connections, and swapping in an image or link ad for people with slower connections — means ads can perform more efficiently for the people seeing them.
In July 2013, Facebook experienced its second lowest volume of ad clicks at a level 25 percent below the baseline (January). But after that, Facebook ads are much more active. From July to August, there's a 38 percent upswing. Marin Software feels that this spike is due to parents having more time once their kids are back in school. Additionally, college students could be using the site more around that time too.
Noah Kagan has been doing a KILLER job of featuring amazing guest posts on his blog OkDork. This one is no exception.
The above picture is when Noah sent John chocolate chip cookies. Why?
Well, it all started with an email that got his attention.
Because of that one email, I interviewed him for a guest post I was writing, got him to come on my podcast, got valuable feedback from him on my blog, and now I'm writing a guest post on his personal website
So how did my email get Noah's attention?
The email I sent which managed to grab Noah's attention was actually a perfect example of an effective email to a busy person who receives dozens or hundreds of messages and requests for their time each week.
Why You Need to Master Email
In To Sell Is Human, Dan Pink argues that workers spend a larger portion of their time today persuading, negotiating, and pitching, than ever before, and much of this work is done by email.
Let's See the Email
Why this email worked
The Subject Line Was Relevant
You want the subject line to quickly tell your recipient either why they would benefit from opening your email and/or how they know you.
The Benefit Was Clearly Articulated
The Time Commitment Was Short
I said the interview would take only 5-7 minutes of his time. If you're asking for something, you want to make the commitment so small and the benefit so great, they can't possibly pass it up
The Email Message Itself Answered All Questions
My email message provided all of the details Noah would need in order for him to make a decision about my interview request.
5 Tips for Creating Successful Cold Emails
1. Grease the Wheels Ahead of Time
One of the best things you can do before emailing someone cold is to get them to get to know you through other channels, particularly through social media. I call this "greasing the wheels."
2. Be Brief
One of the best things you can do when emailing a busy person is to keep your email very short. Even though most people have heard this tip, I am still shocked at the incredibly long emails I receive, and I probably receive a small fraction of the email traffic Noah receives.
Here's what the sequence might look like:
Email #1: Attention getter, i.e. a sincere compliment
The point of the first email is simply to get a response. I may use a sincere compliment or perhaps mention the person in a blog post I've written and then email them to tell the person about it.
Email #2: Make Personal Connection Over Something You have in Common
In your second email (or first "reply" email), you want to continue the conversation by making a personal connection.
If you mentioned in your first email that you are both from San Francisco, then in this reply email you may continue discussing common interests, such as, "too bad about the 49ers this year" or "I just can't get a decent burrito ever since I moved from the Mission to the Haight."
Email #3: Real Purpose for Emailing the VIP
It's not until the third email that I actually bring up the real purpose for my email. Why? Because if you've already made a personal connection and deepened it, then the VIP is more primed to say "yes" to your request at this point.
3. Communicate How You Will Benefit THEM
Noah has already written about this but it bears repeating. It doesn't matter what you want, it only matters what you can do for the person you're emailing.
4. Make it Fun
Another great approach is to demonstrate that you have a personality and a sense of humor in your email. While I wouldn't recommend emailing a busy person solely with the goal of making them laugh, it is a good idea to keep things light in your email.
5. Find Things You Have in Common
Finally, one of the best ways to make a connection with any busy VIP is by finding what you have in common. It is much more difficult to ignore a cold email if it's from someone who you share something in common with, such as you're from the same hometown or you have a friend in common, or you lived in the same city around the same time.
A great post from the Moz Blog covering the changes to Video SEO now that the dust has settled.
[su_box title="Like Video SEO?"]If Video SEO is your thing, check out our Free Cheat Sheet that reveals… a Video SEO Ranking System (Dominate In Hours). Step 2 contains a crucial but overlooked tactic that has created great results for us.[/su_box]
Any who back in July, Google rolled out a bunch of changes in the way they treat rich snippets in the search results (check out this fantastic post from AJ Kohn for the details).
One of these shifts was to dramatically scale back the prevalence of video snippets in universal search results, restricting them exclusively to domains where video is the core offering of the site.
A list of domains receiving rich snippets as of August 2014, courtesy of Casey Henry.
Why did Google do this? Some theories…
Making YouTube the source of the overwhelming majority of video results in Google search will send more traffic to YouTube, get more companies to put all their videos on YouTube and thereby sell more and more ads. (I'd like to believe this isn't a primary motivator, but frankly it's absurd that this query receives a video result.)
Video snippets were far too easy to spam, and you could get video results for almost any page just by implementing the correct mark-up. This was having a negative impact on user experience and therefore it made sense to strip the videos back to just pages and domains where video was clearly the core offering. (This is almost certainly part of the reason). You could even get video snippets without having a video on the page.
Video results were rendering awkwardly on mobile devices, and with mobile search becoming more and more important, it made sense to strip them back
Google is keen to get people using the tabbed search features more, and removing a lot of videos from universal search forces users to be more explicit when they want a video (note that any domains can still rank in the videos tab with full rich snippets).
Does this affect my video marketing strategy?
Yes it does.
This means that YouTube's importance and value as a marketing channel, particularly where SEO is concerned, has expanded considerably. Google's favoritism towards their own platform, alongside the continued focus on domain diversity within SERPs means YouTube can now be considered a scalable and easy way to get content ranking for some competitive terms, securing an eye-catching snippet in the process. In terms of owning Google SERP real estate, YouTube has just become one of the most powerful tools in any SEOs arsenal.
Where should I host my videos?
Core advantages of different hosting options:
YouTube
Better visibility in organic search
Visible across the YouTube platform
Integration with Google+, Facebook and Twitter by default.
Secure Third-Party Solution (e.g. Wistia)
Better analytics, tracking and integration with marketing software e.g. Hubspot, Marketo.
More customizable video players and CTAs
Ensure links and social shares point back to your site to drive traffic and improve overall site SEO.
Time to jump into Tool Time but stay tuned because afterwards we'll be featuring a Case Study on 'How to Create a Squeeze Page that Converts at 21.7%'.
TOOL TIME
Originally on the iPhone and now on Mac as well, Mailbox has been exploding in popularity. Reason being it allows you to fly through your email.
It's currently in beta but the beta coins aren't too hard to get.
Check out the review at The Verge 'I burned through my inbox with Mailbox for Mac'.
Doublie – Word of Mouth
Doublie helps you take awesome selfies by adding swag but I was really impressed by their 'word of mouth' testing.
I've included what Founder Shane Walker said below:
We do all the obvious in-app stuff; what we really wanted to focus on was a concept with a strong word-of-mouth component. BGR reported this year that word-of-mouth was up to 77% of how mobile apps were downloaded. So we did a really interesting, and I think unique, test to choose a concept with the highest likelihood of spreading via word of mouth. We did a spin off Aaron Pazter's Mint.com concept test where he'd stand at the Caltrain station and gauge people's reactions to the concept of Mint. We did something similar, but as a twist intended for mobile apps, we would tell them about the app, show them the app, ask some questions about the app, but intentionally never mention the app's name. If the person being surveyed ever asked what the app's name was or how to find it, we'd mark down 'yes' for word of mouth. The rationale was that, in the real world, you usually ask your friend what that app is they're using. Trying to measure that has always been speculative, but we came out of those tests with a ranked list of concepts people wanted to download right there. Doublie was the clear winner with over 70% asking for it, winning over many, many high minded concepts. H/t to Preet, the youngest PM at Zynga, for the idea on the word of mouth test. Sweet and here's a fuller article about the test.
I'll let Ankur Nagpal tell us why it's so great:
Arguably the highest quality online course I've ever seen on programming. John and Eliot have recorded over 300 lectures walking you through the creation of 14 different iOS applications from scratch, culminating in a Tinder clone.

The course has sold over 20,000 copies to date – but in light of their upcoming Swift course launch, it is completely free for the Product Hunt community.
Here's a sneak peek at the inside.
Fedora – Platform for Courses
After dealing with the woes of multiple different membership and course platforms, Fedora intrigues me. It was Founded by Ankur, aka the guy I just quoted above, and is rather beautiful on the inside.
It's got reasonable pricing and set up. Best of all it's free if your course is free and includes basic integrations such as mailchimp and aweber.
If you wonder what it looks like simply check the image above.
Whiteboard Fox helps you create a simple online whiteboard. You can share it in real time using any modern web browser.
It syncs in seconds and it's tablet friendly. Simple and does what it needs to.
Here's a video that gives a nice overview of the benefits.
Originally spotted at HackerNews.
Picreel – The Cheapest Exit Pop

We've talked about exit popups a lot here. We've given you options and hopefully this should be the last option you ever need.
Picreel has a 30 day free trial (no credit card) and pricing that starts at $19 a month after that.  It does seem to have a focus on Ecommerce but should be adaptable.
Other exit pop options include Bounce Exchange, OptinMonster and Ouibounce.
Backlinko shares how they stumbled upon a secret that creates high converting squeeze pages. His main discovery was creating a beautifully designed landing page that is optimized for social sharing.
Here's the live page.
Here's the 3 step process he developed to create this kind of page.
Step #1: Choose Your Social Squeeze Page's Topic
This is HUGE.
Unlike a traditional squeeze page, your Social Squeeze Page's topic can't simply be "sign up and get a free eBook".
Instead, you need to find a topic that your target audience is desperate to know more about.
In other words: Unless someone is starving for information, they're not going to give you their email address.
He made the topic a real life case study.
Bottom line: Choose an in-demand topic that your audience has trouble finding reliable information on.
Step #2: Create Your Social Squeeze Page
(You don't necessarily need to use all 8 elements on your site. But the more you use, the better your page will convert)
Check the original post for a full break down of each of those elements.
Step #3: Promote your Social Squeeze page
When someone lands on a page with dozens of Tweets, Facebook Likes and comments, they instinctively view the page as high-value.
In other words, the more social proof you generate, the better your page will convert.
HONORABLE MENTIONS
I know these Reloads have gotten a bit longer so to keep them shorter I've decided to include a few honorable mentions.
Content Promotion: The Difference Between Brands with Fans & Anonymous Content
Local Event Marketing: Earn Links, Build Citations, Get Reviews, Increase Foot Traffic, and Win at Local SEO (also works for lawyers, dentists and other service companies.)
You're Doing AdWords Wrong (Here's How to Make it Right) by Unbounce
Easily Predict the Future Performance of Your PPC Account
12 Ingenious Ecommerce Tools You've Missed
Hope you liked the Reload..
and enjoy Labor Day weekend! Or those non-American folks, enjoy the weekend!
reccommended videos
Choise a Topic:
related

videos