Friday Reload #26: Subject Line Gold, Groupon Evolves, Who's Charlie, The Twitter Takeover & More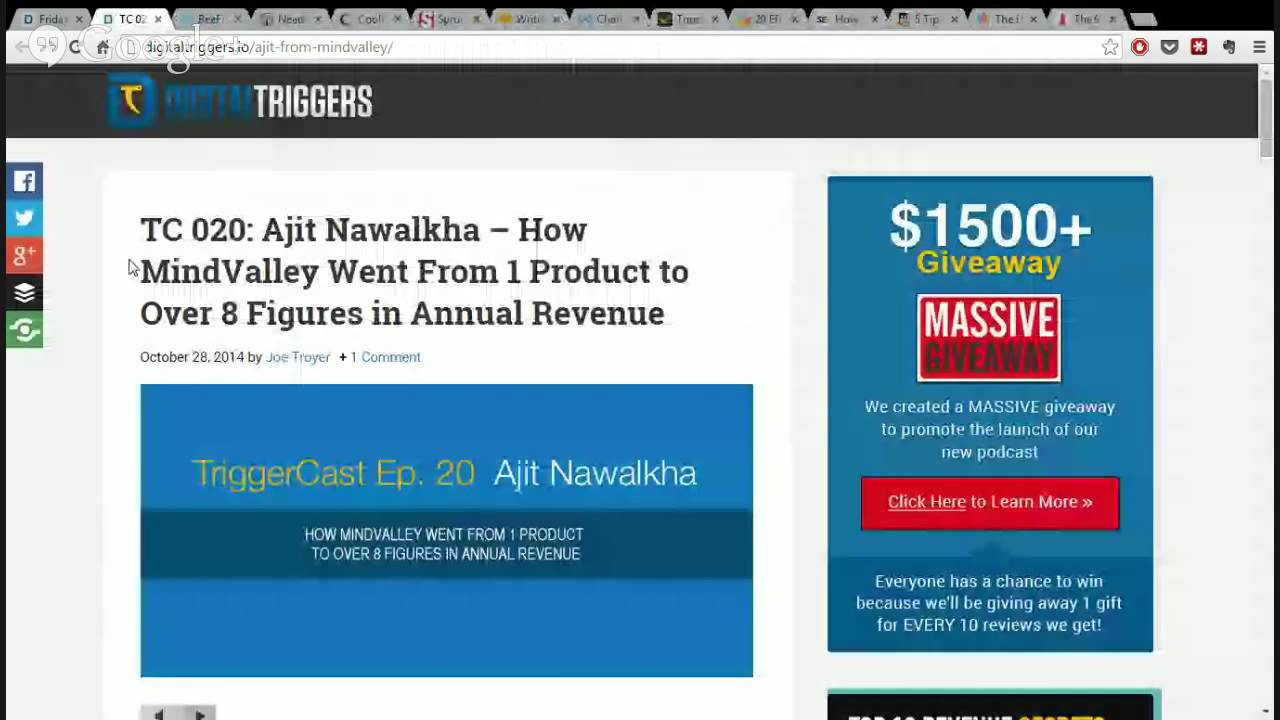 Podcast: Play in new window | Download
Get caught up on what you might have missed in the week with The Friday Reload.  We hand-curate the best posts, news and videos of the week.
For the week of October 31th, 2014
NEWS RELATED
Depending on your viewpoint, Groupon's new Pages offering is either a helpful new tool for local business owners or a bid by the company for more search exposure and a new way to gain sales leads. Indeed, it probably qualifies as both.
If it isn't obvious, Groupon Pages are essentially business profile pages that permit SMBs to promote offers to consumers and allow them to "request a deal." In addition, if Groupon has consumer recommendations, those are displayed in the upper right of the page.
Most significantly, perhaps, Pages will appear in search results on Google, and they will also show up in Groupon.com search results.
The "request a deal" feature may also help the company deliver new value — qualified leads — to SMBs and establish or repair its trust. Groupon's reputation took a beating during the "daily deals bubble" including  related negative coverage surrounding the company.
Convinced?  Then check out this post on How to Claim a Groupon Merchant Page (Or Not).  When Dan Liebson actually tried to create a new page things got a bit difficult.

Google has just announced several updates to the mobile capabilities of My Business.
Business Owners can now respond to reviews via the MyBusiness mobile app (Android today, iOS very soon)
Call Analytics from within MyBusiness – this was a feature that was rolled out temporarily last month, but is now (permanently) available in mobile and desktop analytics.
Another major feature just rolled out is the ability to receive active notifications of newly received reviews within Google Android App. This feature appears to also be imminent but not yet released on the desktop.

Wonderful write up by Wired on newly introduced Fabric by Twitter. It does lots of very pretty things, and the people who write mobile apps are going to eat it up. Which, OK, that's nice. But the bigger story is what Fabric represents. Because it isn't just a tool for developers any more than Greek horses were meant to beautify Troy. Fabric is the foundation for Twitter to transform a business based purely on a single product—tweets!—into a diversified service aimed at every person and company that makes mobile apps. That, in turn, would affect every person who uses mobile apps. In other words, everyone.
"If we achieve our goals with fabric it will be the first thing developers include when they write their apps."
To do it, Twitter is going to give them—at no charge—a suite of tools designed to help them sign up new users, analyze their applications usage and stability, and, most enticingly, make money. In exchange, the developers will build Twitter right into every app that gets written.
The payoff for Twitter will come if it can get developers to embrace MoPub,, its advertising product, because it gets a cut of any ad revenue. So it gives developers these nice tools to sign people up and improve their apps' performance—and oh yeah, here is a click-to-install ad plug-in to go along with that, which happens to make us money.
While not a new feature,
+Post ads
have only made a subtle appearance until now. It looks like somebody at Google decided to give the little used feature a little boost. Some webmasters are reporting a new prompt popping up with the following message:
You'll still need at least 1,000 followers to advertise though.
Google Analytics' new Treemaps report allows for lightning-fast analysis.
AdWords is better when it's linked with Google Analytics (GA). Analytics reporting gives you much deeper insight into your AdWords performance.A new report that was just released and that will be rolling out over the next few weeks to all GA accounts. Treemaps.
Treemapping, in the ever-updating words of Wikipedia, is "a method for displaying hierarchical data by using nested rectangles."Nested rectangles, you guys. NESTED RECTANGLES! (I think it's a sign that I've found the right career path when the previous sentence gets me excited.)
In case you don't share my immediate enthusiasm for nested rectangles, here's why you should care about Treemaps: you can identify trends and trouble spots across your account with speed and insight that you don't have when looking at numbers alone.
That's enough news for this week.  Onto the rest!
Traction
— a book that Justin and Gabriel self-published — launched on Aug 26, 2014. In relatively short order we met our initial goal of 10,000 copies sold (12,328 so far). This post has all the details about how we met that goal and our thoughts of where to take the book from here.
This post covers how they initially did an inner circle test, launch test and after the launch.
With self publishing becoming more and more popular this is an invaluable post that really breaks down how to launch a book.
Traction Channels Summary
It is hard to break down exactly how many sales were contributed to from each channel, but here is our best guesstimate:
33% Email marketing
25% Targeting podcasts
25% Viral marketing (completely organic)
10% Targeting blogs/aggregators (Hacker News, Product Hunt)
3% Amazon rankings
2% Speaking engagements
2% Other
That book above?  Written by Gabriel Weinberg who founded Duck Duck Go which was recently added to iOS8, originally used Reddit ads and feedback to fuel growth for that startup.  Safe to say the method works.
So how fitting we have a post here covering some of the most popular subreddits.
Not very many content marketers and business people are exploiting Reddit. "As a central hub for understanding customers and promoting content, Reddit is a goldmine," quoting the author of the article above. Find there hundreds of subreddits to push your quality content to, and reach out to a targeted audience.
This week features Ajit Nawalkha who is a Senior Partner at Mindvalley, CEO of Mindvalley Media & Co-Founder of Mindvalley Italy.
If you're unfamiliar with MindValley they have revenues of more than 8 figures annually, has about 200 employees from dozens of countries, with more than 150 of them working at its main office in Malaysia.
Ajit provides insights into how Mindvalley is run, the 2 ways to work on a business and how to go from one product to a product warehouse. He also mentions how to create a million dollar business in 12 months.
He tells me about the process they use for selling products and how they've managed to shorten it from 3 months to 3 weeks and plan to make it even shorter.
We chat a bit about managing your self, how he starts his day, his productivity sheet and accompanying ten minute video, inbox zero and how we underestimate our own power.
Lastly he details the different channels that Mindvalley uses for customer acquisition and why he loves paid advertising.
TOOL TIME
A large amount of tools this week should be a fun one.
I'm planning out testing this one out for my Friday Reload or TriggerCast email.  Let's see how it does.
Scours Twitter and Facebook to deliver real-time sales leads.
The super fast color schemes generator for cool designers!
I used
Stock Up
to find the background photo.
Also recommended for words on photos is
Chisel
.
Writefull is an application that provides feedback on your writing. You can select a piece of text in any writing tool (from Microsoft Word to Gmail) and a small popover will appear above your selected text. This popover offers five options to assess and improve your selection with the use of the Google Books database.
The "find words in context" is the most useful feature, imo. Sometimes I noodle on which word to use describe something and this some (sometimes) relevant results by Ryan Hoover on
Product Hunt.
Make a killer impression on anyone you meet with using Charlies 'spark notes' for meeting prep.
With just email and a full name you can do wonders.
You'll get a bio, current position, other positions, them in the news, common interests and hobbies as well as other interests for them, common connections… the list goes on.
This one almost seems too good to be true.
This is definitely one I plan to be testing.
That's enough tools let's switch up to some E-Commerce focused things.
Email marketing is the one biggest driver for customer retention. This channel should not be disregarded by those who have an e-commerce store; those who focus on increase growth and revenue. This article will show you some cutting-edge email-acquisition techniques specifically thought for e-commerce purposes.
The quick summary is below.
Website Custom Audiences
Email List
Interest-Based Campaign
Lookalike Audience Tool
Common theme to the last two articles so why not extend it to one more.
Yahoo Streem Ads
Google Display Network
Facebook
PLA
Seller Ratings Extensions
Part 1 of a 3 part series.  This part focuses heavily on targeting which it says LinkedIn is the targeting is hands-down the best for reaching business-facing customers.
Bill Macaitis, the former CMO of Zendesk, articulates how a SaaS marketing team should operate better than anybody else I've met. At a recent Point9 conference, Bill outlined the 9 marketing disciplines of great SaaS companies and how they fit together to create a marketing powerhouse.
Morgan Brown on Growth Hackers describes it as "Instant book mark. This is one of the most concise, insightful, and complete looks at building the components of a b2b growth engine. Thanks @ttunguz for the writeup."
HONORABLE MENTIONS
A breakdown of how value is working in today's media world. Worthy.
That'll be it this week folks!  Happy Halloween!  Make sure to dress up and give out good candy.
reccommended videos
Choise a Topic:
related

videos