Monthly Reload #40: How One Word Made Obama The President, From 0 to 110k Instagram Followers In 5 Months, 30 Minute Change Accidentally Increased Annual Revenue by $61k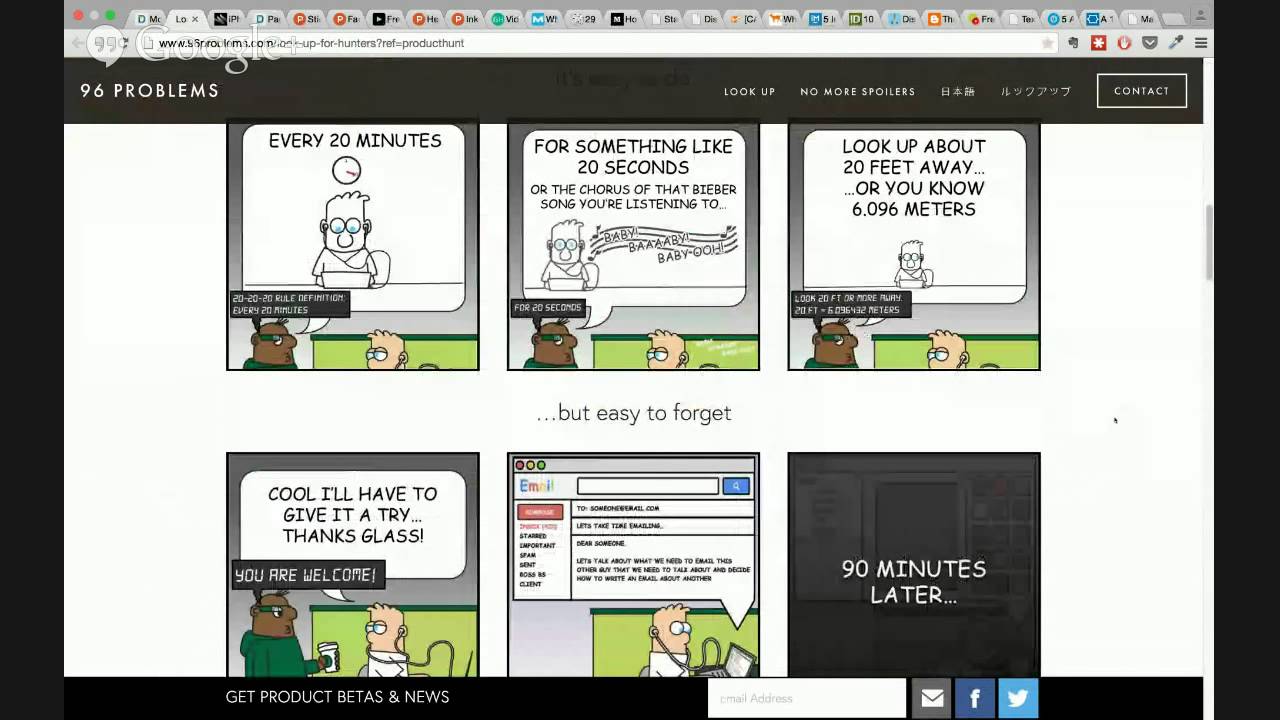 Podcast: Play in new window | Download
Get caught up on what you might have missed in the month with The Monthly Reload. We hand-curate the best posts, news and videos of the month.
For the month of April 2015
NEWS RELATED
Google is now a mobile carrier. Today the company has made official its plan to offer wireless service to owners of its Nexus 6 smartphone. It's called Project Fi, and Google is launching an early invite program beginning today. "Similar to our Nexus hardware program, Project Fi enables us to work in close partnership with leading carriers, hardware makers, and all of you to push the boundaries of what's possible," the company wrote in a blog post.
For $20 a month you get all the basics (talk, text, Wi-Fi tethering, and international coverage in 120+ countries), and then it's a flat $10 per GB for cellular data while in the U.S. and abroad. 1GB is $10/month, 2GB is $20/month, 3GB is $30/month, and so on. Since it's hard to predict your data usage, you'll get credit for the full value of your unused data. Let's say you go with 3GB for $30 and only use 1.4GB one month. You'll get $16 back, so you only pay for what you use.
In an email to its partners, YouTube details plans to "offer consumers the choice to pay for an 'ads-free' version of YouTube for a monthly fee."
YouTube will pay you 55% of the total net revenues recognized by YouTube from subscription fees that are attributable to the monthly views or watchtime of your Content as a percentage of the monthly views or watchtime of all or a subset of participating content in the relevant subscription offering (as determined by YouTube). If your Content is included in and viewed by a user in multiple subscription offerings, YouTube will pay you based on the subscription offering with the highest amount of net revenues recognized by YouTube, as calculated by YouTube.
TOP STORIES
A/B testing helped raise $690 million and get Obama in office
They ran around 500 A/B tests like this. Pitting each idea head-to-head to fight it out in the real world.
They tested different page designs, email subjects, email copy, images, the works.
And all these improvements stacked up to create a massive compound effect.
161% Sign up increase x 49% Donation increase = Combined 289% increase
In the end, Obama's team raised $690 million in campaign funding and most of it came from these emails.
Another article on the same:
Love me some Cialdini! Great 11 min refresher on the six principles of influence. Really love the mint example for reciprocation. It feels like a growth hacking experiment for food servers to get more tips. – Sean Ellis
Foundr is an Australian digital magazine for Entrepreneurs. They've amassed a following of 110k Instagram users in just 5 months, and now believe it is their biggest growth channel.
Things you'll learn in this article:
– Ensuring your content aligns with your user demographics
– How to appeal to emotion
– Tactics on driving more comments/likes on images
– How to maximize value from your bio link
– What time of day works best and what types of imagery works best
The e-commerce world is realizing something that SaaS companies figured out a long time ago: Recurring revenue is great for the customer and the business. The business can spend more time on a better product since value and retention are king.
We use these and they work great. This can be used for non-consumable products as well (lets say product has a recommend lifetime length of X). As long as you know X, you can tailor your replenishment sequence around it. – Austin Lilley
Sometimes little things have a disproportionately large impact. I'm not sure why this seems to surprise me, at this point, but it never fails. Every time one of these rolls around I'm left going "Really? THAT did it?" – weird.
The last big measured improvement in Ghost's onboarding process that we talked about was detecting events which improved conversion process the most – and then using targeted emails to drive more people to those "aha" moments. We found one event in particular which improved conversion rate by 1,000%.
Today's change isn't nearly as dramatic – but it's also not nearly as complex. While the last test took a good 40-50 hours of design, development and extensive testing. This time we spent 30 minutes on adding one <div> to one page, and it gave us 25% bump in how many people try Ghost every day.

How can Automattic consistently hire the best people without ever having a single voice conversation?
OUR HIRING PROCESS IS A BIT DIFFERENT THAN MOST COMPANIES
We don't schedule chats, we don't fly people out, and we rarely even have a single voice call before people are hired.
You might think, "That's crazy, there's no way that can be effective".
Well, here are some numbers:
I handle all design and growth hiring at Automattic. I began hiring about a year and a half ago. In that time I've reviewed a total of 251 resumes.
63 of those have gone on to an interview (25% of applications received)
41 have been given a trial (65% of those who I interview)
15 have gone on to a final interview (37% of those who do a trial)
14 of those have been hired (93% of those who receive a final interview)
None of those whom I've hired have been fired and zero have left the company voluntarily. (100% retention so far)

Bloggers have a small but loyal community that drives significantly more engagement than paid advertising. 70% of online consumers learn about companies for the first time through blog posts, and 81% of people trust the information and advice they read from bloggers.
This makes blogger outreach an integral component of our ultimate goal – the building of trust with our customers.
Blogger outreach is like a muscle. The first time you flex that muscle it feels a little strange. You're muscle is weak and you are out of your comfort zone. But the more you persist, the more you refine your technique – the stronger your muscle becomes and the greater the benefits.
Blogger outreach is at the heart of my growth strategy here at Blogger Sidekick. What that means is I have tried out a bunch of stuff – some has worked, and a lot hasn't! I've also spent a considerable amount of time consuming information on the topic. The outcome is the step-by-step process you will read in this post and the downloadable Blogger Outreach Spreadsheet. Along the way I will list out a set of tasks I suggest you complete to optimize this process, you may like to download the spreadsheet first and fill it in along the way.
TOOL TIME
Reduce eye strain & exhaustion with the 20-20-20 rule.
Also I must point out their awesome comics on the landing page.
IN EARLY 2013, Kevin Lynch accepted a job offer from Apple. Funny thing about the offer: It didn't say what he would be doing. So intense is Apple's secrecy that all Lynch knew was his vague title, vice president of technology, and that he'd be working on something completely new. ¶ It was odd that Apple even offered him a job. During his eight years at Adobe, most recently as chief technology officer, he was best known as the only person dumb enough to publicly fight Steve Jobs over the iPhone's lack of support for Flash videos. When Lynch announced his move, the reaction was immediate: They want this guy? Apple blogger John Gruber called Lynch "a bozo, a bad hire."

Place it. Press it. Get it.
Because most offices are too boring.
Custom wall graphics for your home or office.
The calendar app you won't be able to live without.
Completely free HD videos you can use everywhere.
Don't let the screenshot fool you.  They have some great videos.

MORE STORIES
The title might seem basic and his shirt loud but this is some excellent stuff.
James Currie has helped 10 different companies exceed 10 million users and he rarely allows his growth presentations to be recorded. In this 20 minute video from Le Web 2013, James covers the full gamut of growth and the essential ingredients behind his successes. He gives a real world explanation of growth while dispelling the myth of silver bullets.
Key areas covered in this presentation include:
Growth Culture – Growth requires tolerance for failure and patience. CEO should be part of growth team.
Messaging Psychology – Companies should constantly revisit the psychology of their messaging (subtle changes can lead to dramatic shifts in perception).
FUE (first user experience) – James recommends companies spend 50% of product development resources on the first user experience.
Engineering Virality – James shares his unique understanding of virality, one of the most exciting growth channels available.
I'm amazed he could pack so much information about an effective overall growth framework in a 20 minute presentation (and not look rushed). He covered a lot of the same material at the GrowthHackers conference, but he didn't allow it to be recorded. I was excited when I found this video, because there were lots of holes in my notes from the earlier presentation. I'm guessing most people will watch it more than once or pause multiple times throughout the video to write thoughts and notes. – Sean Ellis
There's a common misconception that SEO is a "one and done" task — that you clean up and optimize a site, and once that's done, you can focus your efforts elsewhere. There's so much more to the day-to-day work of an SEO, though, and in today's Whiteboard Friday, Rand walks us through those ongoing parts of the job.
While traditional B2B marketing focus was on getting to the 'right' people by reaching them directly, growth hacking lets you reach a much wider audience and dramatically increase your chances to get a champion. The main difference between standard to B2B growth hacking is that on B2B you usually need to get to a more targeted audience. Here are 29 ways to it. 22 out of them don't require any budget. 17 of them will take you less than 1 day.
(and what you can do about it.)
I love articles and posts like this.  Such a big part of being an entrepreneur in this day and age is the battle with yourself.  Keeping your discipline, health and work ethic in check.
Launching a business blog is not easy. Maintaining one – or worse,growing one – is even more difficult. But I didn't realize just howdifficult this was until I joined the Sidekick Team at HubSpot.
After two years of blogging and producing offers for HubSpot's audience of 1.2 million readers, I was suddenly faced with an audience of zero. I went from a team of brilliant content creators to … me. And when I Googled, "how to launch a new blog," I got the crappiest advice.
"Network, network, network!" – okay, cool, and that accomplishes what exactly?
"Start writing, and keep writing!" – yeahhhh, about what?
"Share your blog on social media!" – right, because everyone on Twitter is just DYING to read my latest gibberish.
Fortunately, I was working with an amazing team. My manager, Brian Balfour, had perfected the art of audience research. And my colleague,Dan Wolchonok, had the perfect mix of technical expertise and growth passion to quickly ship experiments. The three of us worked together to launch what is now the Sidekick Blog, and within five months we generated over 22,000 engaged email subscribers and retained an average of 30,000 monthly blog viewers. 

Tired of hearing how important mobile is?
"You've got to have a mobile strategy!"
"You're missing out if you're not "on" mobile!"
"Mobile advertising spend increased by 123% in 2014 and is rapidly rising!"
Mobile is becoming more and more important, especially with paid traffic. You might be missing out on some amazing traffic if you haven't expanded your advertising campaigns out to mobile devices.
Now, perhaps you already have a mobile strategy. However, you might not be taking advantage of the true power of Display on mobile. Having a mobile strategy and a mobile strategy that's already proven to work are two very different things.
In today's post…
We'll reveal the mobile strategies of 3 different Display advertisers in 3 different niches. You'll see their best ad networks, publishers, ad creatives, landing pages and more.
You'll see how they're using mobile Display traffic to grow past the $1M+ dollar mark. Plus, you'll see how you can take their insights and implement them in your own campaigns.
Even awesome companies like Zenefits (online HR software company) can improve their cold email copy. Email marketing expert Heather Morgan — from Salesfolk — dedicates her latest post to analyzing Zenefits' cold emails, and gives tips to improve their cold email campaigns.
If you give the reader an irresistible headline, they're going to want to read the next sentence, and then they're going to want to read the sentence after that, and the sentence after that, etc. Click above and learn the art, science, and psychology of writing headlines that actually drive traffic.
Did you know that email marketing has an ROI of 4,000%? Email marketing is considered the ultimate online-sales tool. This blog post includes some great email subject lines you can steal and re-use now for your email-marketing campaigns.
HONORABLE MENTIONS
Great comment from HackerNews:
The general online audience has matured over the past 10 years, and most people have an excellent filter to avoid clicking ads, which includes affiliate links. You can still monetize a site these days, and make some money while not being sketchy, but it requires approaching it as a service to your users, not as an exploit of your users.
What I mean by this is that whatever your site is, if your audience has a legit interest in specific products, and the next logical step in their personal workflow would be to buy something, go ahead and put in some affiliate links. It makes sense, and everyone gets what they need/desire.
But if you are adding links and talking about products solely because you want those nickels from someone clicking it, you are not helping your audience, and they know it, and they will react accordingly.
I'm somewhat surprised that anyone would have spent 10 years flailing in this arena and not learned that.
reccommended videos
Choise a Topic:
related

videos