Get caught up on what you might have missed in the week with The Friday Reload. We hand-curate the best posts, news, and videos of the week.
For the week of November 21st, 2014

NEWS RELATED STORIES
Google makes some moves and Facebook drops a big one on us.  Let's start with old Google and then we'll talk about Facebook.
Google's new mobile-friendly testing tool tells you if your site passes or fails the mobile test.
The new tool is at google.com/webmasters/tools/mobile-friendly and it basically gives you a pass or fails grade. Either it tells you that you are mobile friendly or you are not mobile friendly.
If your site earns Google's new "Mobile-friendly" designation, you might be rewarded with a ranking boost.
Google begins rollout of mobile-friendly search label in the mobile search snippets.
How do you qualify to show such a label for your web pages?
Google said it depends on if GoogleBot detects the following criteria:
Avoids software that is not common on mobile devices, like Flash
Uses text that is readable without zooming
Sizes content to the screen so users don't have to scroll horizontally or zoom
Places link far enough apart so that the correct one can be easily tapped
FACEBOOK DENOUNCES OVERLY PROMOTIONAL PAGE POSTS
The organic 'game' on Facebook gets harder and harder.  We've got a lot of sources on this one to try to make sense of it all.
Here's Facebook's official post on it.
One of the main reasons people come to Facebook is to see what's happening in their News Feeds. Our goal with News Feed has always been to show people the things they want to see. That's why we often look to people on Facebook to tell us how we can improve. As part of an ongoing survey, we asked hundreds of thousands of people how they feel about the content in their News Feeds. People told us they wanted to see more stories from friends and Pages they care about and less promotional content.
We dug further into the data to better understand this feedback. What we discovered is that a lot of the content people see as too promotional is posts from Pages they like, rather than ads. This may seem counterintuitive but it actually makes sense: News Feed has controls for the number of ads a person sees and for the quality of those ads (based on engagement, hiding ads, etc.), but those same controls haven't been as closely monitored for promotional Page posts. Now we're bringing new volume and content controls for promotional posts, so people see more of what they want from Pages.
According to the people we surveyed, there are some consistent traits that make organic posts feel too promotional:
Posts that solely push people to buy a product or install an app
Posts that push people to enter promotions and sweepstakes with no real context
Posts that reuse the exact same content from ads
Examples of these types of Page posts:
Starting in January, in another blow to organic reach, users will see fewer posts that are solely focused on sales or sweepstakes or reuse ad copy.
Facebook said it will start treating promotional posts more like News Feed ads, which have quantity (a maximum of two a day per advertiser) and quality (based on engagement and hiding) controls.
"All of this means that Pages that post promotional creative should expect their organic distribution to fall significantly over time," Facebook wrote.
"It's a clear message to brands: If you want to sound like an advertiser, buy an ad," said Rebecca Lieb, a digital advertising and media analyst at the Altimeter Group.
Jon Loomer offers up his take on all of this.
Time to Move Onto Our Top Stories
10 Things Master Salespeople Do to Close Sales
I'm a sucker for a great image but salesforce brings the heat here.
Follow described it as "A very enticing article on how to close sales. Explore concepts and ideas revolving around: How to demonstrate your product works, how to explain why the product may be needed, how to list details of your product, plus much more."
Here are the 10 essential principles:
Demonstrate
Explain the Reason Why
Lay on The Details
Describe the Mechanism
Acknowledge Objections
Provide Expert Opinions
Sprinkle in Testimonials
Abide by the Law of Candour
Offer A creative Guarantee
Differentiate Your Product
The 10 Crucial Steps to Close Sales
Even if your email list is huge, poor open and click-through rates prevent you from spreading the word about your marketing campaigns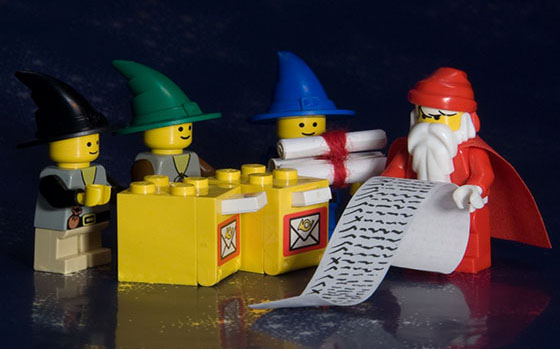 Image by s3aphotography via Flickr.
The world honestly feels run by emails.  I'm ALWAYS telling you to build your email list, getting them opened is hugely important and we're always looking to increase our click through rates.  On top of that, we all know we spend way too much in email and it's usually the first thing criticized by productivity experts.
I do want to caveat this article by saying a big part of email marketing is the relationship with your list.  If you ONLY promote, always send short curiosity based emails,o r never provide good content then people will eventually become sick of your and unsubscribe.  So don't abuse your list.
Now onto the promise of the article:
But what if you could write emails that get twice the average open rate, and four times the average CTR?
1. Write like a human.. to other humans
The number one mistake most email marketers make is writing like a business.
In her book Content Rules, MarketingProfs' Chief Content Officer Ann Handley calls this all-important human element "voice," which she defines as: "the way your writing sounds when it's read."
So, how can you write like a human?
The easiest way is to actually picture yourself in a real conversation and simply write the way you'd talk.
2. Pay attention to the only three lines that matter
An estimated 65% of all emails are now opened on a mobile device.
That means, when it comes to open rates, you've got just three lines to convince the average subscriber to come inside:
Subject line
The first line of your email
From line
Why only these three?
Because those are the only three lines that mobile devices display.
Here's an example.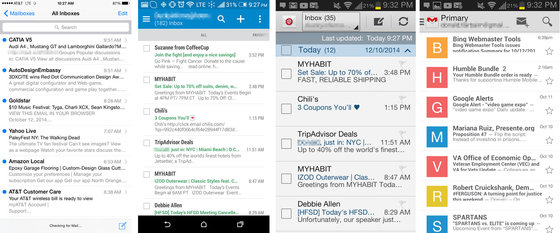 Keep it short. As you can see in the screenshots above, you'll get just around 35 characters before most displays cut you off.
Make it personal. Yes, use your subscriber's name whenever possible, but also use pop culture references relevant to your demographics, emoticons and slang (when appropriate). Throw in numbers and data if possible, and above all, ask questions (see #4 on this list).
Lead with the benefits. Always start off with your product or service's single most drool-inducing, pain-relieving, pleasure-producing benefit.
Frank Kern – the self-proclaimed "President of the Internet" – exemplifies all three. Here are the last three email subject lines from his most recent product launch:
Aaron! (OPEN UP)
Process map (pdf), cheat sheet + live stuff 🙂
BIG NEWS. (Very cool free stuff for you)
3. Make your emails mobile responsive
I already mentioned that an estimated 65% of all emails are now opened on a mobile device.
Even more to the point, 42% of those mobile users delete emails that don't display on their devices correctly.
4. Ask questions
If you want to create engaging and click-compelling emails, then you need to engage your subscribers in an actual conversation. In my experience, the best way to achieve this is to ask questions.
Why questions?
Because questions move your readers from passive recipients to active participants. In other words, questions spark engagement.
Even more powerfully, questions create what Bob Sterling, founder of Profit Alchemy, calls an open loop:
The mind cannot stand an open loop. It has to close that loop. So the person is almost forced to make a choice and respond.
They recently sent out an open-loop email for a client who produces high-end, elementary curriculum. All the email said was:
Hi [Name],

Are you still interested in elementary [niche] curriculum?

Cheers,
Client
The open rates were in the mid-60% range.
And the subject line was about as simple as you could get: "Hi [Name]" That's right, exactly the same as the first line.
Even more wonderful than those open rates, people actually wrote back. A lot of people in fact. About an hour after the emails went out, the client sent me a short note of her own that simply said, "There are too many responses. Can you help?"
Want to dive deeper?  Check out Crazy Eggs post on "How to Write the Perfect Email That Gets Opened and Clicked" which covers A/B testing more thoroughly.
The AdStage Guide to Twitter Ads
Expand your advertising efforts by using Twitter as well.  With many similarities and recent new features it' a platform worth testing.
AdStage covers a lot of details such as where ads display, campaign objectives, and types, cards, targeting, bids, and budget.
It's a GREAT primer on Twitter Ads.
If you want more check out their Do's and Don'ts of Twitter Ads.
Follow: A very, very comprehensive guide on how to use Pinterest for: Increase following, generate consistent traffic, generate leads, boost engagement, and much more.
First I've heard of or seen from JS Marketing but man did they pack a Mike Tyson sized punch with these ones.
Probably the best guide I've seen on Pinterest yet.
If you're looking to attract female users aged between 18 and 49 then Pinterest is a good place to start.
Pinterest Advantages
HOW TO POST THE PERFECT IMAGE
A study by Curalate analysed 500,000 images on Pinterest to dig the data on what makes up the ideal pin.
Here's the summary:
No human faces – Images without faces get re-pinned more often than images with faces. Among images shared by brands — retailers, media, etc. — those without human faces are re-pinned 23 percent more often
Little background – If you use an artificial background on Pinterest – make sure it's not more than 40% of the surface area. If it breaches this limit, average repins are reduced by up to half.
Multiple colours – mages with more than 1 colour = 3 times more repins.
Don't go black and white – a colour image is 10 times more likely to be shared than a black and white image.
Go long – images which are vertical and have an aspect ration of between 2:3 and 3:5 get shared more often.
Go red – red or orange based images tend to get repinned more than blue images
THE 80/20 TO GET MORE FOLLOWERS

After analyzing 3 million pins, the University Of Minnesota narrowed down the three most important factors you should work on, to gain more followers:
The number of users you follow
The number of pins you create
The number of boards you create
Focus on increasing each of the above (within a sensible limit) and you should see a marked increase in your own followers and therefore referrals.
The post goes on to feature 12 case studies of companies that have found ways to consistently generate leads and revenue from Pinterest.
Here's the quick recap:
Generating 1000 visits a day from Pinterest
Segment based on your customers to increase inquiries by 12.5%
Work on your images to increase your web traffic by almost 200% though Pinterest
Diversity to dominate like the big brands
Use a call to action on your images to increase leads
Market your pints outside of Pinterest to generate 35,000 Pinterest referrals
Build momentum to generate 40k views from Pinterest in 5 weeks from a standing start
Accidentally getting 489,000 page views from Pinterest
Use infographics to drive thousands of Pinterest repins
Software firm generates sales from Pinterest
Consistent pinning leads to 16,592 website referrals from Pinterest
Grow your list by automating linking with Pinterest
The above SlideShare is excellent and provided the framework and inspiration for this post.
Here is the basic 6-part structure of this guide:

"Mobile is eating the world," Ben Evans said once. If you work on mobile, this presentation will offer you plenty of strategies, tools, tactics, and case studies for growing your users.


If you've never heard the term 'Tripwire' then this article is for you.
Digital Marketer talks all about how they 'product splinter' and generated a boat load of money from a dead list.  Then they went on to successful replicate the same trick in other markets.
Explore some engineering-as-marketing techniques pulled by companies like HubSpot, Twitter, Moz, DropBox, plus more. Check them out, analyze what those companies did, and see if you can replicate some of these growth hacks.

Quick answer: write in a conversational tone rather than a dull easy to hook your readers.
This post seems a few months too late but the data is solid and well researched.
Quick Answer: Buying likes from shady companies doesn't perform as well as buying likes from Facebook.
Here's another post about why you shouldn't buy Facebook Likes!
TOOL TIME
I love simple tools.  I used GifLab earlier to do exactly as it says, I dropped in some images and it created a gif.
The signup process is a little weird because it asks you for a phone number but the ease of use makes it worth it.
Adorable name.  Spotted on ProductHunt it is a tool for checking your site's accessibility, SEO, & more.
"Nibbler is a free tool for testing websites. Enter the address of any website and Nibbler will give you a report scoring the website out of 10 for key areas, including accessibility, SEO, social media and technology.
Tests 5 pages of your website, to check for more pages and to get a comprehensive report checkout their other site http://sitebeam.net/"
– Kevin David
HONORABLE MENTIONS
Take Care!
That's it for this week.  Hope you enjoyed it and make sure to sign up to the email list as I've been sending out some bonus content this week, not featured on the blog.