Friday Reload #33: How a Real Estate Blog Gets 18 Million Visits Per Month, Find the Perfect Product Idea and Make $10k from Your Blog, No Fail Process for Copy that Converts & More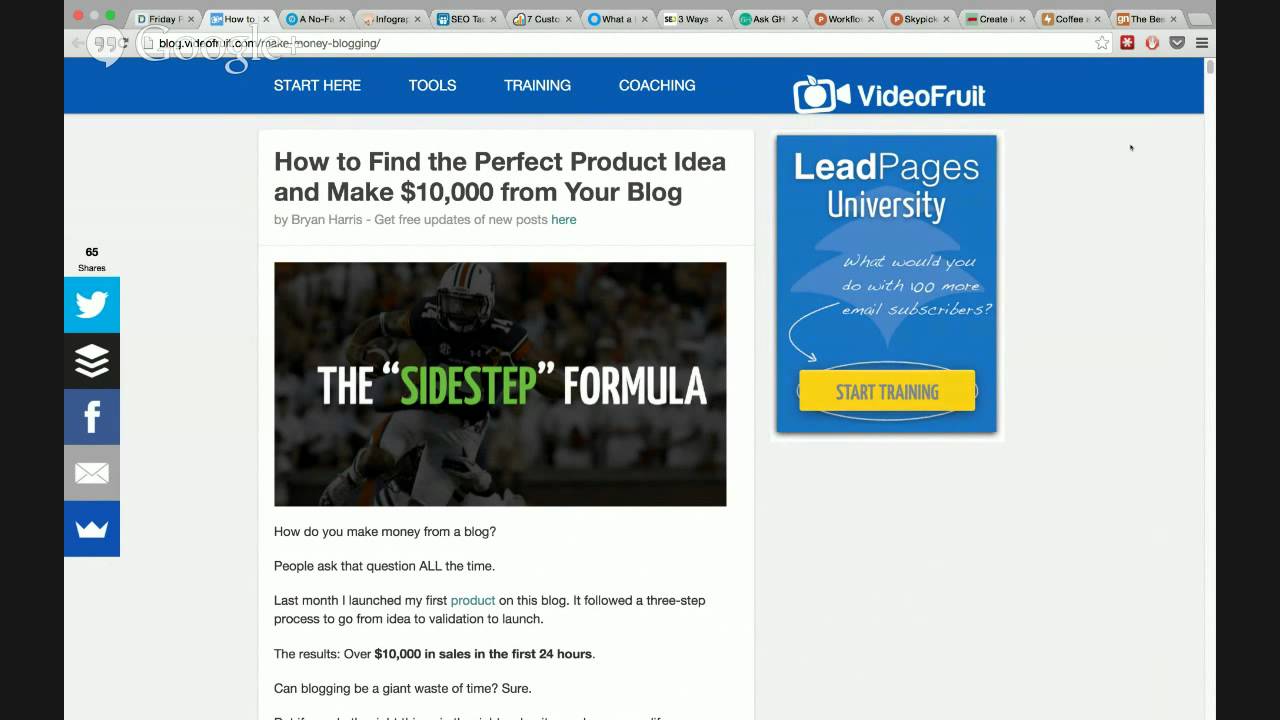 Podcast: Play in new window | Download
Get caught up on what you might have missed in the week with The Friday Reload. We hand-curate the best posts, news and videos of the week.
For the week of December 19th, 2014
News Related
"A new way for advertisers to create targetable audience segments based on mobile app actions such as an install, purchase or sign-up."
Google Display Network targeting has received many small upgrades this year, and columnist Susan Waldes notes the cumulative effect is a new display power player. Not a single change to GDN in 2014 was "game changing" in and of itself. Reflect on them all together, though, and something big emerges: in the last 12 months or so, GDN has evolved to become a serious display advertising platform with almost all the bells and whistles (or some slight variation of them) that the traditional display folks use.
TOP STORIES
Movoto's Content Strategy: How We Make All Those Things Go Viral There is a good reason why some strategies are used on the Internet, and that is because they work. Movoto (real estate company) applied a scientific method to get more traffic, and this is the result.
Here's the table of contents.
1. Clearly define your goals
2. Start with the end in mind
3. How we figured out the best way to pitch people OUR way
4. Don't reinvent the wheel. Learn from the experts.
5. How to make things go viral
6. The magic of click-through rates
7. Focus on Facebook
8. Remember the small things when it comes to SEO
9. The results of all the hustle
10. The future of content
How do you compete against sites that are 25 times larger with marketing budgets that exceed your 7-year-old company's total historic revenue? You don't. For the past two years, the content strategy at Movoto has been about finding holes in our bigger competitors' strategies and exploiting them. Much like the Oakland A's fight against the Yankees and Red Sox, we can win if we focus on parts of the market that our competitors overlook. Here's how we went from 2,000 visits per month to over 18,000,000 visits per month, and you can too.

"If you are a marketing automation geek like me, you will enjoy this list of 9 Zapier hacks that will make your life so much easier. Here are the "Zaps" (or recipes) that have been the most useful to me in the past as well as the coolest new automation ideas that I will likely try out." – GH
29 Things You Should Be Doing (But Probably Aren't) Definitely wins for the best intro to a slide show ever.
"I love data, especially when it includes the lessons people have learned. This post from the folks at Batch will help you think about how to approach marketing for your next product release." – Hiten Shah
TL;DR (For busy folks)
TechCrunch generated relatively low traffic (372 visits) but with an excellent sign-up rate (17.2%). They are a less demanding albeit tech-loving audience. There were few questions on the article which was itself shared over 4000 times.
Product Hunt produced a solid amount of traffic (4696 visits in 24 hours) with a decent sign-up rate (6.63%). More importantly, PH set themselves apart in their ability to continue to drive traffic to our site over the week, amounting to an additional 150% of what we had on launch day, resulting in a grand total of 13,866 visits. They have a tech-loving audience with a product/design angle, who posed very interesting questions from the community.
The highest traffic on a relative scale came from Hacker News, which generated 2027 visits in just 3 hours, with a low sign-up rate (3.01%). They are a demanding audience with challenging questions, especially if the post makes the Top 10.
BetaList sent us very moderate traffic (240 visits) with an excellent sign-up rate (22%), but with a promotion fee to jump the queue ($190) which brought the sign-up unit cost to $3.60.
Time for some Neil Patel on non other than content marketing.
Here are the 7 rules he blogs by:
Set the right frame
Hook your readers
Data builder credibility
Blog with your heart
Love your readers
Don't repel readers with fancy vocabulary
It's all in the list
7 Rules weren't enough?  Well time to drink from the fire hose because Neil has 100 lessons you can learn from.
We aren't going to post all 100 but we will cover the different sections.
Headlines
Writing
Idea generation
Commenting
Email marketing
Scheduling blog posts
SEO
Social media
Bryan Harris chronicles a recent product launch. How do you make money from a blog? People ask that question ALL the time. Last month I launched my first product on this blog. It followed a three-step process to go from idea to validation to launch. The results: Over $10,000 in sales in the first 24 hours.
Step #1: Invent a product that people will buy.
Step #2: Validate the product idea.
Step #3: Launch the product and make money.
I love that he even posts the exact emails that he used.

Image courtesy of Craig Howell via Flickr. The steal your messages section is particularly worth mentioning.
This beautiful infographic covers some of the most popular email marketing myths.  Subjects include subject lines, images vs text, email frequency and more. The design is awesome so it's worth checking out rather than rewriting all of it here.
How many times have you seen customer support "tips" that are vague and totally useless for your business? "Be human." "Have a voice." "Be thorough." All perfectly reasonable advice, but what are you supposed to do with it? Instead of ambiguous catchphrases, let's talk about real, actionable customer service tips that you can use to do what matters – grow your business. 1. Upsell and Cross-sell (When It's Appropriate) 2. Skip the FAQ 3. Send a Handwritten Note
4. Reduce Customer Effort 5. Use Reciprocity to Increase Retention
6. Identify, Track, and Act on Your "Red Flag" Metrics 7. Feed Your Customers' Cravings
Photo Credit: Public Domain. Michael Deering writes this guest blog post on GigaOM about a letter Daniel McCallum wrote to his bosses. In 1855, Daniel was just recently promoted to General Manager of New York & Erie Railroad. He outlined five key management challenges that still exist in today's businesses. McCallum's letter outlined five key challenges:
How do you get a group of people to work together to common goals?
How do you give people the right amount of responsibility?
How do you make sure the job gets done?
How do you know how things are going?
How do you do all this with respect for others?
Here's a link to the original document.

Why It's Different
Not Really Paid Social
Not Really Display Ads
A Righteous Hybrid
Here's the Gold
One Domain
Near-Unlimited Traffic
Most Qualified Traffic
Sean Ellis had a fantastic answer:
The important growth channels are really dependent on a product's category and target customers. For example, most marketing tools businesses benefit from content marketing for their growth. If I was going to recommend two channels that will likely be important a few years from now for most companies, I'd say search (Google in particular) and Facebook. In both cases, I'd work to understand how to leverage these channels to grow organically and via paid marketing.For technologies, I'd recommend learning about marketing automation and retargeting. Both of these really leverage the power of data to micro target an audience with the right message to maximize response/conversion rates. And finally for products, I'd recommend gaining a deep understanding of Google Analytics and Hubspot. Both are extremely sophisticated when you really dig into them. At Qualaroo we recently began implementing Hubspot. After six weeks, we're only about 30% complete with our initial implementation. And I'm sure over time we'll figure out a lot more powerful things we can do with it. As for Google Analytics, I'm always blown away by what's possible with it in the hands of the right person. Most of what I've mentioned above requires a constant refreshing of your knowledge. Before going too deep into these areas, I'd personally start with really learning and understanding the principles of growth. These principles don't change over time, which means it's a really good investment of learning time. Principles include things like the importance of product/market fit, triggers of persuasion (read Cialdini), importance of things like retention and conversion, and stages of growth for a new product (what matters, when)… Hope this helps.
Hiten Shah Tip of The Week:"Early Access" is the new "Beta"
I tweeted about this a while ago and can't help but smile when I see a website using "early access" instead of "beta" to solicit people to sign up. Using A/B testing and qualitative research, I discovered that "Get Early Access" as the call to action is much more effective at getting people to sign up versus calling your earliest release a "Beta" product. People feel more special, like they are getting exclusive access to a hot new club and they are also more receptive to paying and giving feedback too. It also has the added benefit of allowing you to test your business model early not just your product.
TOOL TIME
Automate things you do every day on your iPhone/iPad.
Find and book the best low cost flights around the world.
Also worth checking out:  https://www.google.com/flights http://www.skyscanner.com – what I personally use for cheap flights.
Infographics the easy way.
The best coffee shops for working. Wi-Fi passwords included. Also check WorkFrom.co for similar listings of workable shops. Check out The Coffice to find others who work out of coffee shops.
I'll let Bill tell it himself.. "I didn't really plan it this way. But as I look at the list of the best books I read this year, I see how a number of them touch on economics and business. That's fitting, in a year when Thomas Piketty's Capital in the Twenty-First Century put a big spotlight on inequality. In addition, with the Asian economies so much in the news, I wanted to read How Asia Works, which promised to explain why some of the continent's countries grew so fast while others languished. And I got to brush up on an old favorite, the best business book I've ever read."
HONORABLE MENTIONS
We can't always fit it all, but we try to at least include it.
– Adam Schoenfeld has raised $29 million for his B2B SaaS company Simply Measured. In this presentation he shares the strategy and tactics he used that will help you with your fundraising too.
reccommended videos
Choise a Topic:
related

videos