Friday Reload #35: Top 10 Local SEO and Top 10 PPC Articles of 2014, Grow A Thriving Blog with Less Content, Pinterest Promoted Pins Launching & More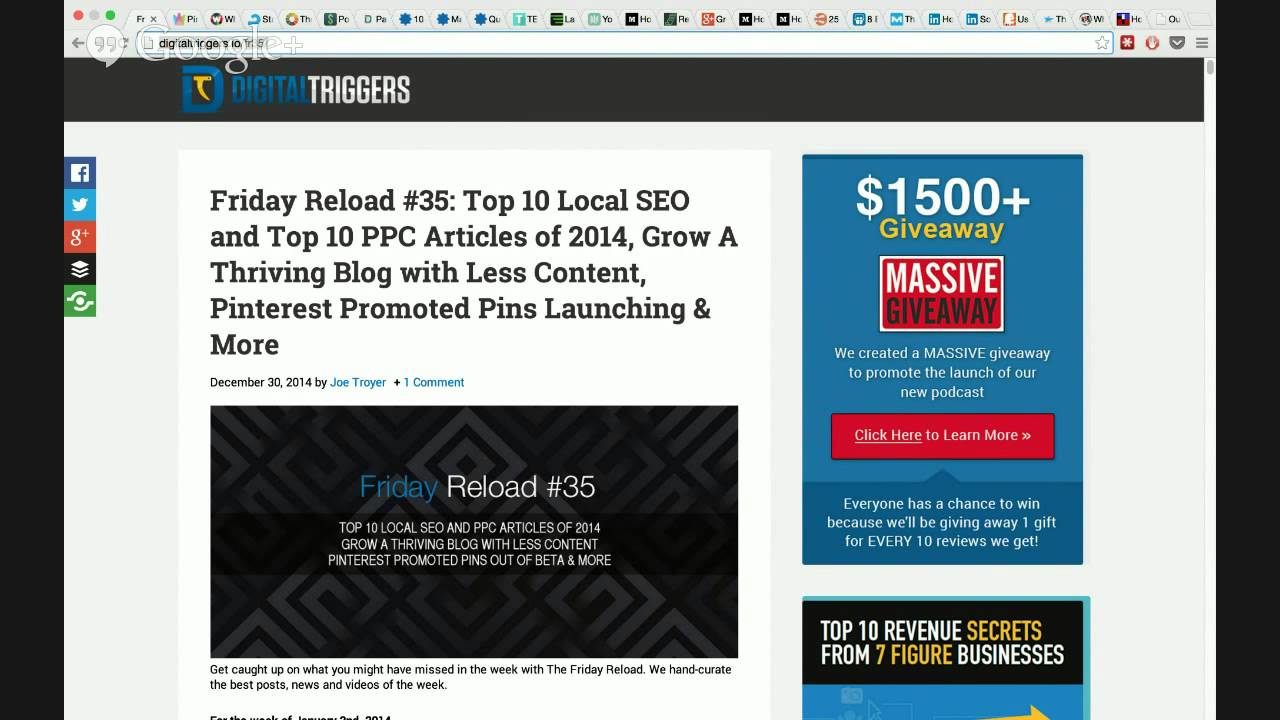 Podcast: Play in new window | Download
Get caught up on what you might have missed in the week with The Friday Reload. We hand-curate the best posts, news and videos of the week.
For the week of January 2nd, 2014
NEWS RELATED

Pinterest will be making its reservation-based Promoted Pin product available to all advertisers on January 1, 2015, just eight months after launching it in beta for brand advertisers and six months after rolling out a self-serve interface for campaign management.
The company's Promoted Pins are native ads that match the look and feel of organic "pins"– the images of clothing, food and products users post to their collections.
Findings from the Beta
The social network, whose mission is to help people discover things they love and do those things in real life, also released the results of its Promoted Pin beta:
Promoted Pins perform just as well and sometimes better than organic Pins.
Brand advertisers achieved about a 30% bump in earned media (free impressions!) from their campaigns. That's from people who saw a Promoted Pin and thought it was good enough to save to one of their own boards. Engagement is strong— the average Pin is repinned 11 times, and that remains true for Promoted Pins (if not higher).
Promoted Pins perform long after a campaign ends.
Since Pins are evergreen and last forever, we often saw an extra 5% bump in earned media in the month following the end of a campaign.
Brands both in and out of our core categories found success.
From financial services to food to auto, brands from a wide array of industries saw results.
Auction-based Promoted Pins (CPC) are seeing success, too.
Many of our self-serve beta partners are seeing major gains in traffic and impressions. We're still making tweaks to the product and want to make sure we get it just right before we roll it out to all businesses.
The Best Sites of the Year on Facebook and Twitter: Technology company Newswhip ranked the best-performing publishers on Twitter and Facebook in 2014 based on their exclusive data on overall engagement. They also noted some top-performing newcomers of the year.
Data from digital marketing firm AdRoll finds that digital marketers are spending more of their online ad budgets on retargeting. Seventy-one percent of respondents say that 10-50% of their digital marketing budget goes towards retargeting, up from 53% in 2013. Ninety-two percent report retargeting performs equal to or better than search, 91% equal to or better than email and 92% equal to or better than other display ads. For both B2B and B2C marketers, 50% say social media is the single hottest topic in retargeting.
Some of the highlights from State of the Industry: A Close Look at Retargeting and the Programmatic Marketer include:
92% of marketers report retargeting performs equal to or better than search, 91% equal to or better than email, and 92% equal to or better than other display.
For both B2B and B2C, 1 in 2 marketers say social media is the single hottest topic in retargeting—mobile and cross-device retargeting comes in at #2.
54% of marketers are retargeting on mobile, rapid adoption indicating strong confidence in retargeting's cross-device performance.
Retargeting has expanded up the funnel. 70% of marketers use retargeting for brand awareness, 60% for social engagement, and 58% for customer retention.
91% of marketers consider attribution important or critical to success, but 1 in 3 aren't clear on how to track it.
TOP STORIES
A great infographic on email marketing by Litmus (email testing and analytics). Litmus shares what are the devices subscribers click most, how you can improve click rates across devices, and which links subscribers click.
MailChimp analyzed over 395 million emails during a 6-month period to examine how a user's preferred device affects email engagement, investigate the impact of responsive design, and find out if testing your emails can increase click rates.
In this interesting interview you will learn how Brian Dean from Backlinko.com was able to turn his blog into a growing machine. One of his secrets is posting less content (he published only 11 posts in 2014) and promoting more, but with the proper attitude.
Some of the most interesting takeaways that I had are related to how Brian was able to grow his blog so much in the past year.  He did this by blogging LESS.  By focusing more on quality posts rather than quantity, and then working actively to promote those posts, he's been able to become a widely recognized expert.
Brian Dean Podcast Notes
What were you doing before you started Backlinko.com?
I was basically a struggling affiliate marketer.  I was creating small 1 page niche websites with exact match domains.  I created 175 of these 1 page websites while I was freelance writing on the side.
I spent alot of time on the Warrior Forum.  At the time it was fairly easy to rank, and then Panda came out and wiped out my sites.  Then I moved onto 5 page sites and Penguin came out and wiped out those sites.
After that, I could see the writing on the wall and decided to change my ways.  I created a niche authority site that was valuable and promoted it using white hat strategies and it started to do very well.
After 3 months that more white hat site was doing $10,000 a month.
I then started to try and find blogs that were talking about these more quality link building strategies and I just wasn't finding any…so I createdBackLinko.com.
Why has the traffic to Backlinko.com grown so quickly?
There are 3 things that I followed and that others can follow to grow their traffic.
I focused on publishing case studies. I realized there was an under-served community that wanted this type of content.

I stopped publishing as often.  The first year I focused on publishing lots of content; however, in my second year I've focused on less content but higher quality posts.  This year I've only published 11 posts for example.

I hustled really hard to promote everything that I published.
Are you still working on anything else other than Backlinko?
I'm focusing 100% of my effort now on Backlinko.com.  I do have a few other sites out there, but I'm not putting effort into them.
Backlinko is a lot more fun and rewarding.
How are you actually bringing in money with Backlinko?
I sell a premium training course called, "SEO that Works".  That's how I bring in all the money with Backlinko.
The course is currently closed, How often do you plan on opening it up?
Next year I plan on opening it a total of 3 times.
Are you willing to share any type of revenue or other details?
I would rather not give specific numbers.  However, I will say that each launch has brought in over six figures; and I've had a few launches this year.
The course is priced higher, and so I don't need a ton of customers to bring in a significant amount revenue.
Do you have a secret formula for creating a interesting blog post titles?
For every post I have a keyword that I like to target.  I front load the keyword in the title, and then the rest I write about some specific value that can gain from the post.
For example, one of my blog post titles is: "Viral Marketing Case Study: How a Brand New Blog Generated 17,584 Visitors in One Day"
A couple of resources to look at interested data:
How can people "up their game" to create more in-depth content?
Many people only skim the surface of a topic.  My rule is to think, "an inch wide and a mile deep".  Instead of just a post about "how to get more subscribers", you could write about how to create the best form for collecting the most email subscribers possible, that could be much more in-depth.
How can you write content about a topic even if you are not an expert?
You definitely don't have to be an expert in everything that you write about.  Whenever possible you should use personal experience.  You don't have to be an expert but you can just document your journey.
If you use the inch wide and a mile deep mentality, then you should never run out of topics that you don't have some knowledge on.
How much time are you spending on your blog posts?
I would say that depending on the post, its usually about 20 hours that I put into each post.
How much time do you spend promoting your content after it's published?
I spend another 10 hours.
What are your steps to promote that?
I'm a big email guy.  This has given me the best ROI.  I like to do a "content roadshow" for my content.
I usually just Google keywords related to my content and find other bloggers.  Then I reach out to those people that come up in those results.
I will send an email and just ask if they want to check it out.  If they are interested, I'll send the content and ask them what they think.  It's very simple.
People will thank you and share it with their audience.
Do you ever specifically ask them to share it on Facebook, Twitter, or ask for Links?
No, never.  I just don't think its good form and can backfire.
It may depend a little bit on the niche, but in the marketing niche, people know why you are sending the emails.
How many people do you usually contact for a content roadshow?
Usually about 100 to 120 emails go out.  It's a lot of time and I have my assistant help me.
Do you have any additional words of wisdom that you would like to share?
One thing I hear alot is that people are concerned with how frequently they update their blog.  I would just advise that its not as important to publish as frequently as you might suspect.
If you are just publishing for the sake of publishing, you should perhaps think twice about that.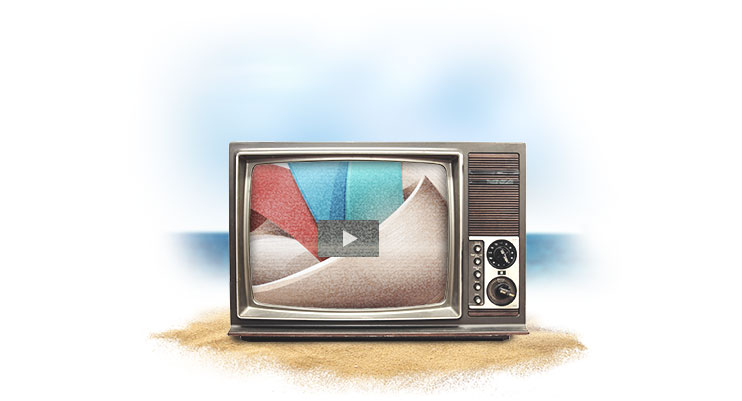 The folks at Groove share a detailed process for how they increased conversions by improving their explainer video.
I'm legitimately impressed by their attention to detail and how revealing they are about their process.
Writing the Product Video Script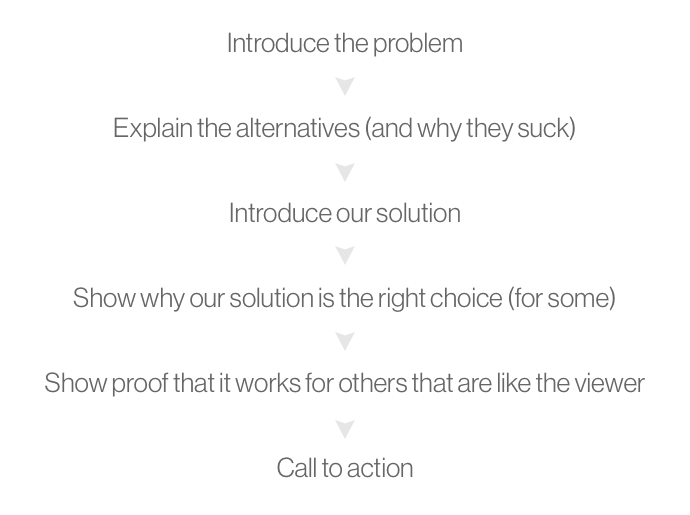 The 90 second initial script which changed several times throughout the process.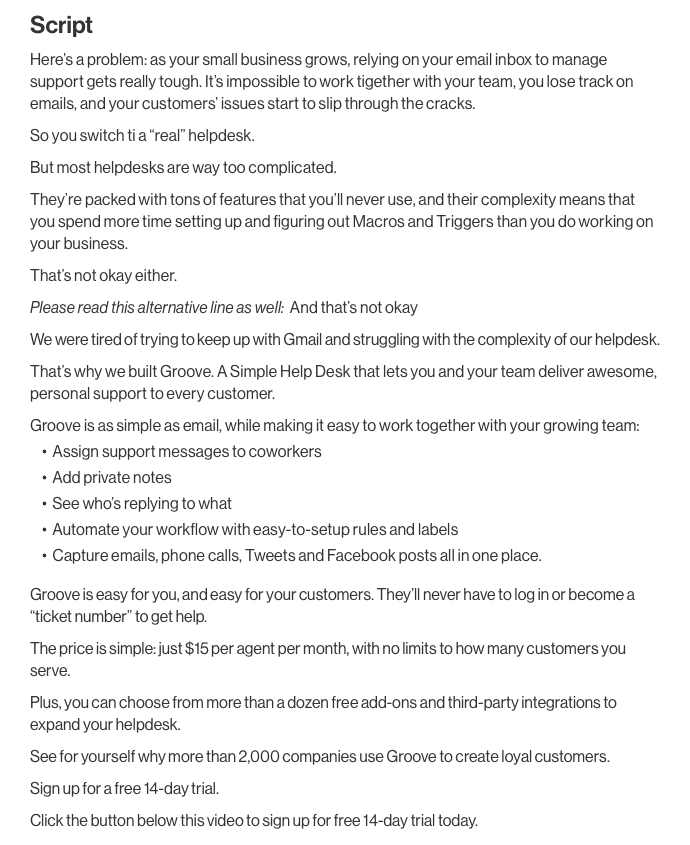 As 2014 comes to a close, columnist Andrew Shotland reflects on the things he's learned about local search this past year.
I've included a few of the highlights below.
2. Great Rankings Are Just A Click Away, Click Away, Click Away
User Behavior is an important competitive difference maker in local search. Darren Shaw blew everyone's collective minds at State of Search when he unveiled the results of tests he had been running on the impact of user behavior in search rankings:
4. Apple Does Care About Local Businesses
It's often said that Apple's #1 priority is Apple. Its customers are #2 and developers are #3. It's safe to say that helping local businesses market themselves has never even been in the top 1,000.
Until this year, that is, when Apple launched Apple Maps Connect, a way for U.S. businesses to claim and update their listings on Apple Maps. Shortly thereafter, we uncovered that Apple had started to work with a number of big local marketing agencies to allow them to pipe in direct feeds of their customers' data.
While it's likely this move was made to improve Apple Maps data quality faster, it's nice to see that what is likely the #2 most used local search service is becoming more business friendly.
5. Lamination Is A Review Builder's Best Friend
In marketing, sometimes the simple things are the most effective.
I always learn a lot from Phil Rozek's take on customer review strategies, but his post 3 Nimble Moves For Local Review Ninjas has one of my favorite ideas of the year: hard-laminate printed instructions you give out to potential reviewers. The lamination makes it hard to crumple up the instructions and throw them away, makes them harder to lose, and seems "better planned-out and more sincere."
7. Yelp Has Affordable Advertising
Problem is, you can't buy it via Yelp. 
8. The World Really Is Going Mobile
We all talk about it, but this past Black Friday/Cyber Monday, we saw a 100+% increase in mobile traffic to our local retailer clients. According to one national/local client that has a partnership with Google, Google has told them to expect that 80% of their organic traffic in 2015 will come from mobile search.
The challenge is that, as more searches go mobile, conversion can decline. This is particularly true if your site is not mobile optimized and definitely true if you are selling stuff versus just trying to generate phone calls.
9. Everyone Really Wants Your Local SEO Budget…Until They Don't
I have nothing against web developers, ad agencies, etc., who want to get into the Local SEO biz. But occasionally (particularly when dealing with smaller local clients), we get into situations where the person running the website or the agency running the AdWords campaign has convinced the client they could also run the SEO program.
It makes sense. How hard is it to update a title tag, after all? Easier than maintaining a functioning SMB website or running a profitable local AdWords campaign from what I see!
Inevitably, however, they hit the brick wall that is Google Local. I have talked to numerous SEO pros who do nothing but Local SEO all day long and the consensus is that, if anything, Local SEO is getting more complex.
This is all good news for Local SEO professionals, but those who have "building a Local SEO practice" among their 2015 plans should think long and hard about how willing they are to deal with all of the fun that comes with this gig.
Looking to build an online presence for your brick-and-mortar business? Discover the columns our local search marketing readership found most useful this year.
In case you missed them during the year, be sure to check out our top 10 Local Search columns of 2014:

From Shopping Campaigns to new Quality Score guidelines, here are the topics that were popular among the paid search crowd this past year.
TOOL TIME
"In order to create SaaS products, you have to understand how they are built. I've learned by helping and watching many developers make software over a dozen years. Yet, I'm not a programmer and I like to say that I fake it. I've always wanted to spend the time to write actual code myself. I'll start by following this guide and screencasts by Mackenzie." Hiten Shah
This book will teach you:
What Customer Lifetime Value is (and why it matters to you)
How to identify your best customers (and find more of them)
How to build authentic & profitable relationships with your customers
How to increase the value of your average order
How to increase the frequency at which your customers spend more money with you
"Now, with one click, you can enhance the lighting, color, stability and (coming soon) speech in your videos."
Really the video below shows all.  It's a Video auto enhance comparison.

MORE STORIES
A step-by-step small guide on how to launch and market your product online. You will learn how to find a product that people actually want, how to make it even better than what it is already available, and how to write a pitch based on your research.
Also worth checking by the same author:
Wanted to start a business with recurring revenue that would take care of my monthly bills through a steady income and give me more freedom to work on bigger ideas (without me having to rely on outside funding). Here's how it got started.
Guest blogging can be used for attracting traffic to your own website, establishing relationship, but also in some cases generate leads. Find here a step-by-step guide on how to get started and get results.
"During the past few years, I've written for some of the most popular marketing blogs in the world.
Blogs like Social Media Examiner, MarketingProfs, Copyblogger, Problogger, KISSMetrics, and the list goes on and on. It's been an honor to guest blog for such amazing publications.
And along the way, I've learned a thing or two.
So, if you're thinking about guest blogging as a way to market your company, this will help you get started. Or if you're already guest blogging, then this will help you get even more out of it."
While 25 different lessons are covered they fall under the follow categories.
Find Where You'd Like to Guest Blog
Ask To Write A Guest Blog
Figure Out The Best Post Type For That Blog
Promote Yourself With Guest Blogging
Be Prepared For Comments And Feedback
Bonus Lessons For Guest Blogging
This slideshare is filled with great advice, and many tips and tricks to make your landing pages stand out and convert better. Click above and learn how to make the best out of copyrighting, CTA (Call To Action), customer expectation, and much more.

Rand Fishkin — from SEO agency MOZ — talks about one factor that may help you rank better. Despite there might be still some ambiguity (from Google) around the ranking factor, there is evidence that all marketers should, in fact, start optimizing for it.

Step 1: Visual capture and transmission.
As humans, we're incredibly visual. In fact, almost 50% of our brains are involved in visual processing [1]. When we see branding or a logo, our eyes send a signal along the fusiform gyrus, a part of the cerebrum, the largest area of the human brain. The fusiform gyrus plays several key roles in human visual processing and recognition, including facial recognition and differentiating familiar objects from one another, like the difference between a cat and a dog. Certain neurons in this part of the brain also appear to be involved in our high-level recognition of words, numbers and colors [2].
Branding takeaway: This part of the brain recognizes whether a logo and branding are new and unknown or something we've seen before. And brand familiarity matters. More than half (60%) of consumers around the world prefer to buy new products from a familiar brand than switch to a new brand, according to a 29,000 person Nielsen study [3]. Unknown brands can even activate parts of the brain associated with negative emotions (the insula or insulary cortex) when we first encounter them.
Step 2: Shape recognition.
From there, the brand experience travels to the Primary Visual Cortex. Also known as "V1" or the "Striate cortex," this brain region is the first place where information from our eyes arrives in the cerebral cortex. One of the major functions the V1 performs is detecting edges, outlines and shapes in objects. Although subtle, brain research shows even a brand's shapes can subconsciously effect how we perceive it. Curves are typically more inviting, whereas sharp angles and edges can represent power but may also trigger aversion. Neuroscience research even shows our brains are predisposed to like certain fonts more than others.
Newer research from MIT also suggests the V1 is involved in basic sequential visual memory, the type that makes it easier for us to drive down familiar roads or understand where we need to be to catch a fast-moving ball in sports [4].
Branding takeaway: This section of the brain understands the shape and dimensions of your brand's visual identity. As any experienced designer knows, the use, emphasis and balance of different shapes creates different subconscious associations about what your brand represents.
Step 3. Visual mapping.
As the primary visual cortex is understanding lines and edges, cells in secondary visual cortex, "V2," are interpreting colors and helping connect short-term visual experiences with longer-term memories. Research suggests V2 is particularly responsible for how we see color consistency, which explains why a red apple still looks red if we look at it outside, under a lamp or in different lightening conditions. Interestingly, research from Xerox and Loyola College points to the connection between color and memory: seeing a logo in color makes it 39% more memorable than seeing the same logo in black and white. Color also drives engagement: adding color to blog posts, product guides, print advertising and other brand collateral increases readership by 80% [5].
Branding takeaway: This important but less well understood area of the brain breaks down and processes elements that include your brand's colors. It also may start to form associations between what's being seen and other memories, and is a key initial trigger point in determining whether a person wants to engage more with what they're seeing.
Step 4: Memory matching.
After breaking down a brand's elements, our brains start to match the visual patterns it detects to previous experiences with similar patterns stored in memory. This includes associations like "I've shopped at that store at this place," or "this logo also reminds me of this other thing." For example, when researchers at ISMAI and the Technical University of Lisbon showed a group of people a mix of fictitious and real logos and used an MRI to monitor brain response, the real logos activated additional parts of the subjects' brains associated with memory and meaning, whereas the fictional logos did not. Some of these extra, activated areas of the brain were places that are responsible for a person's feelings of self-knowledge and autobiographical memory. In our own minds we link brands with different parts of our personal identity [6].
Step 5: Enrichment.
Finally, after our brains complete their initial memory association steps, we enrich our understanding of a brand by tagging other semantic attributes to what we're seeing. Examples of this include specific products, slogans, store locations, supplemental imagery and associations we're familiar with.
HONORABLE MENTIONS
We can't always fit it all, but we try to at least include it.
Dharmesh Shah of HubSpot fame shares a few tips on making hard decisions faster.
I'm a fan of the Jobs to be Done (JTBD) framework because it helps with customer discovery for SaaS products. This post teaches us how to use the JTBD framework to improve copy.
You'll only grow what you measure. This guide will show you how to quantify your content marketing efforts so you can increase ROI.
Our Startup Pre-Launch Strategy (Link No Longer Works)
Develop a plan to keep our audience engaged with really great content
Build up industry connections to network with
Spend twice as much or more time distributing the content than we did creating it
Create one really awesome piece of 'opt-in' content per post
Contact everyone mentioned in the post