Friday Reload #36: 2015 Marketing & SEO Predictions, $400 Free Bing Ads Credit, How To Build a $120K per Month Ecommerce Brand in Under A Year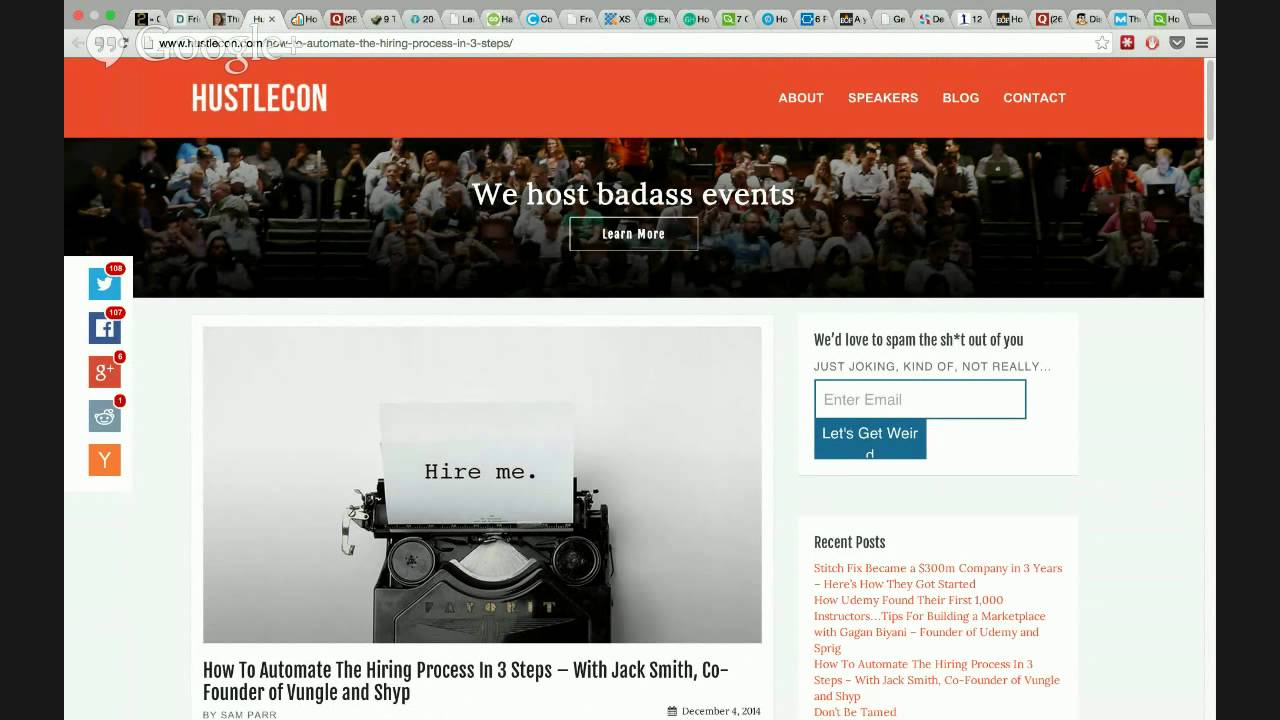 Podcast: Play in new window | Download
Get caught up on what you might have missed in the week with The Friday Reload. We hand-curate the best posts, news and videos of the week.
For the week of January 9th, 2014
NEWS RELATED
The company plans to launch a native video product in the first half of 2015, but is keeping quiet about the details.
2015 PREDICTIONS
We have a boatload of predictions for the new year so let's bundle them all in here.
Although these SEO trend predictions may or may not be correct, it is interesting to see what one of the most respected and knowledgeable people in the SEO industry has to say about what we will see in 2015. Click above and discover what Rand Fishkin has to predict for this year.
In 2014, Rand made 6 predictions
#1: Twitter will go route and create insights-style pages for at least some non-advertising accounts
Grade: +2
Twitter rolled out Twitter analytics for all users this year ( starting in July for some accounts, and then in August for everyone), and while it's not nearly as full-featured as "Insights" pages, it's definitely in line with the spirit of this prediction.
#2: We will see Google test search results with no external, organic listings
Grade: -2
I'm very happy to be wrong about this one. To my knowledge, Google has yet to go this direction and completely eliminate external-pointing links on search results pages. Let's hope they never do.
That said, there are plenty of SERPs where Google is taking more and more of the traffic away from everyone but themselves, e.g.:
I think many SERPs that have basic, obvious functions like " timer" are going to be less and less valuable as traffic sources over time.
#3: Google will publicly acknowledge algorithmic updates targeting both guest posting and embeddable infographics/badges as manipulative linking practices
Grade: -1
Google most certainly did release an update (possibly several) targeted at guest posts, but they didn't publicly talk about something specifically algorithmic targeting emebedded content/badges. It's very possible this was included in the rolling Penguin updates, but the prediction said "publicly acknowledge" so I'm giving myself a -1.
#4: One of these 5 marketing automation companies will be purchased in the 9-10 figure $ range: Hubspot, Marketo, Act-On, Silverpop, or Sailthru
Grade: +2
Silverpop was purchased by IBM in April of 2014. While a price wasn't revealed, the "sources" quoted by the media estimated the deal in the ~$270mm range. I'm actually surprised there wasn't another sale, but this one was spot-on, so it gets the full +2.
#5: Resumes listing "content marketing" will grow faster than either SEO or "social media marketing"
Grade: +1
Granted, content marketing appears on far fewer profiles than SEO or social media marketing, but it has seen greater growth. I'm only giving myself a +1 rather than a +2 on this because, while the prediction was mathematically correct, the numbers of SEO and social still dwarf content marketing as a term. In fact, in LinkedIn's annual year-end report of which skills got people hired the most, SEO was #5! Clearly, the term and the skillset continue to endure and be in high demand.
#6: There will be more traffic sent by Pinterest than Twitter in Q4 2014 (in the US)
Grade: +1
10 predictions For What the Marketing World Will Bring Us in 2015
#1: We'll see the first major not-for-profit University in the US offer a degree in Internet Marketing, including classes on SEO.
#2: Google will continue the trend of providing instant answers in search results with more interactive tools.
#3: 2015 will be the year begins including some form of web content (not on site) in their search functionality.
#4: Google's indexation of Twitter will grow dramatically, and a significantly higher percentage of tweets, hashtags, and profiles will be indexed by the year's end.
#5: The EU will take additional regulatory action against Google that will create new, substantive changes to the search results for European searchers.
#6: Mobile search, mobile devices, SSL/HTTPS referrals, and apps will combine to make traffic source data increasingly hard to come by.
#7: The content advertising/recommendation platforms will continue to consolidate, and either Taboola or Outbrain will be acquired or do some heavy acquiring themselves.
#8: Promoted pins will make Pinterest an emerging juggernaut in the social media and social advertising world, particularly for e-commerce.
#9: Foursquare (and/or Swarm) will be bought, merge with someone, or shut down in 2015 (probably one of the first two).
#10: Amazon will not take considerable search share from Google, nor will mobile search harm Google's ad revenue substantively.
Andrew Shotland from Local SEO Guide provides his predictions in Local SEO.
Google will lose market share in Local (trying not to repeat myself here so check out the link to Streetfight for more thoughts on GOOG,  Apple, etc.)
Google will significantly change the layout of its local pack results at least twice, causing me to break out the Pigeon poop pic again
Google will drastically update their GMB guidelines for the 3rd time in two years, causing a mad dash of changes and posts with the actual impact being minimal (on a related note, Linda Buquet will create the longest forum thread in history with updates on this)
Google will release the ability to claim a listing into GMB locations (aka bulk feed) like you can with their regular dash (Hallelujah!)
As mobile search volume hits north of 75% of local queries, Google Desktop SERPs will almost start to not matter for certain industries – thinking A&E & on-demand services specifically. While the mobile algorithm will continue to be similar to the desktop algo, we will start to see an increase in the ability to influence mobile SERPs via making your site/service/content more "location aware"
To that end, Google will continue to experiment with paid versions of the local pack in an attempt to make these often-horrific results a lot better
After two years of Penguin paranoia, crap linkbuilding & guest posts will continue to be the coin of the realm for most SEO services
Social signals still won't mean shite for SEO but SEOs will still sell them to SMBs, cause ya gotta be right?
Apple Maps Connect will roll out functionality for multi-location brands; maybe they will even allow more agencies to manage accounts for multiple businesses; and European & Canadian businesses will be able to use the service to manage their listings.
The number of "How to Optimize for Apple Watch" posts will be unsurprisingly insane. I may even have to write one 😉
Yext* will successfully IPO creating a feeding frenzy for big players to try to get bigger pieces of the listings management biz (while likely ignoring the lessons of Zero to One). A Yext IPO would also open the floodgates for other scale local marketing plays to test the waters (thinking Thumbtack, Houzz, etc.)
Someone will try to buy Foursquare (what's a local search prediction list without this one?). And speaking of acquisitions, the success of Moz' and LocalU's Local Up conference will spur M&A rumors which will cause Mike Blumenthal to have to say "no comment" for the first time in history.
Stone Temple will publish an exhaustive study on how regularly publishing exhaustive studies improves SEO (I keed Eric, I keed…)
The demand for Local SEO services will hit an all-time high
We will publish more often on this blog and elsewhere in our attempt to blow your collective minds and/or procrastinate

When you're doing Local SEO, columnist Greg Gifford reminds us, you must take a step back and look at the big picture if you want to be successful.
You've got to stop focusing on one or two tactics and instead work on everything.
Make your content amazing and informative, but optimize it with local signals
If you've got location pages, make sure they're unique and well-written
Create local content for your blog
Optimize the heck out of your Google My Business listing
Get some good links to your site
Clean up your citations and go grab any that you're lacking
Get more positive reviews on your GMB listing, and on other third party sites
Use social media to interact with your customers
In a nutshell, you should click the "local" button up in the menu and read everything. Twice.
In 2015, you've got to be a jack of all trades if you want to succeed in Local SEO. You can't just bang out a bunch of citations and win any more. You can't just put your city and state in a few title tags and H1 headings. You can't just spam a few Google Places categories.
TOP STORIES

As your PPC campaigns grow, you'll want to expand your reach beyond Google AdWords by creating similar campaigns on Bing Ads. It's a great way to reach the millions of unique searchers across the Bing and Yahoo! networks. To help you get started, Bing is offering $400 in free ad credit to AdStage customers.
Entrepreneur Eric Bandholz was able to build a brand from nothing, and take it to a $120,000 in monthly sales. The company Bandholz built is called Beardbrand, and this blog post explains how he did it.
In less than a year Beardbrand went from $0 in sales to $120k/month in sales
Beardbrand has a higher repeat customer rate than industry average
Beardbrand's 7k email list gets 46.6% open rate and 13% click rate
Beardbrand's users gladly write reviews of their experiences and share it on social media
Customers will tell Beardbrand that they purchase from it because of its videos and its vision
The article explores how Gmail's structured data via Schema.org is adding more interactivity to emails and what it means for the startups.
As Morgan Brown says "I believe this is a huge opportunity for email-dependent businesses to boost their CTRs from delivered messages. Great post on how to implement."
LKR has a lot of great social related posts and their blog roundup is worth checking.
The GrowthHacker community has many bright minds and in this post they share their biggest wins.
Here's one response by James Greig:
"I grew my mailing list by over 700% this year, having been very shy about promoting my newsletter previously. Here's how:
— Added a SumoMe popup (netted 75 signups with this yesterday)
— Redesigned my homepage with a signup box at the top
— Sent a weekly newsletter without fail for the past 4 months straight (was only sending sporadically before this)
— Started promoting my content (in places other than Hacker News, ha)
— Began experimenting with content upgrades to incentivize signups
Objectives for next year:
— Start doing guest posts on high traffic sites
— Launch my first non-free ebook
— Build my first email course"

Hiring. It's the #1 challenge I hear from entrepreneurs who are scaling their businesses. This step by step guide will give you one company's process and some creative ideas on how to make hiring a little bit easier.
The Greatest Hiring Hack Of All Time
Jack Smith is the co-founder of Vungle and Shyp. At last year's Hustle Con, Jack taught the audience how he automated the hiring process for Vungle's office manager.
This post is for you if:
You need to hire someone
You're not technical enough to build web apps (or just too lazy)
You've spent hours sifting through unqualified applicant emails
You use Craigslist to find applicants
You want a fast and easy way to filter out the winners from the losers
In this post, we give a step-by-step description on how Jack hired his office manager by building an automated process with Craigslist.
SaaS marketing is different. On the KISSmetrics blog, co-founder Neil Patel expands on why this is true and what you should do about it.
Many folks start new habits at the beginning of a New Year. This guide will show you how to start your 2015 with new habits in the right way.
1. Start with an incredibly small habit.
2. Increase your habit in very small ways.
3. As you build up, break habits into chunks.
4. When you slip, get back on track quickly.
5. Be patient. Stick to a pace you can sustain.
TOOL TIME
Pat Flynn provides a great list.
Scrivener
Calendly
Sumome.com
Leadpages
Slack
Trello
Muse
Sleep Cycle
Rev
20+ Low Cost – Real Growth Hacking Tools for Bootstrapped startups (Link No Longer Works)
I actually saw this in a Growth Hacker post and recommended he make it a blog post.  Sure enough here's what we ended up with.
Before you begin, here are a few items to note:
This is not an article that just lists out some tools related to growth hacking. These tools are tried and tested by us. This works for us, and brings in revenue, but may NOT work for you.
Not every tool is directly related to growth hacking. Some help achieve the end result indirectly.
Who are we? We are SecureSlice, a growing startup that works with large enterprises to help secure seriously important files.
Most of these tools are free or low-cost. It's all based on value. As we grow, we might purchase more expensive tools. Our goal is to get the most VALUE out of a tool before we move on to the next expensive option.
You have suggestions? Great! Please post them in the comments section, but please don't just advertise, instead tell us why that tool works for your startup.
Some of the links below are referral links – share the love.
Lastly – this is a living post. It was last updated on 1/1/2015.
LeadHook – No Longer Available
Another free and easy to use lead generator tool.  Best of all it's 100% free during the Beta.
Get in now and utilize exit intent technology to grow your email list.
Manage habits w/ a clean interface showing streaks & trends.
I love the design and have already downloaded it myself.
Lift has rebranded to Coach.me and now gives 'instant coaching for any goal'.
Use the awesome app and get personal coaching.
Get all the Free Stock Images, Videos and Icons in one location. You can click on close to close the list and use the website in full width. Clicking on menu should bring the list of sites back in to view.
Free HD video loops for awesome landing pages.
MORE STORIES
A few more stories…
"My friend had a necktie company. Two weeks later he opened his doors and sold $4,000 of neckties because of what we did on Instagram. Good times."
"My favorite part hands down @austenallred was your in depth description of your target customer. It really informed your marketing decisions and moves. Many people just seek growth hacks and quick wins without this level of work and insight. I've subscribed and am definitely looking forward to the next chapter. Great job." – Isi Ojeabulu
"Listening to this interview, I learned some amazing strategies for content distribution that I've never implemented before – and I've been in the content marketing / growth game for a while.
Brian also says he's used these strategies to build his traffic to around 90,000 unique visits per month, when his original goal for December 2014 was 30,000.
His key takeaway is distribution, distribution, distribution: for every hour you spend writing content, you need to spend at least four in distribution. Personally, I'm excited to try this with some of my clients." – Chelsea Baldwin
SEO (Search Engine Optimization) changes all the time, and so must you, along with your strategies. Some of the tactics that are working today may be a reason for stagnation tomorrow. Follow this seven solutions to increase your website's organic traffic in the next 30-60 days.
Whether your content marketing strategy is working or not, knowing how to generate more leads is always a good thing. Click above and learn about the three main pillars that have been used in recent times in almost all growth hacking techniques on the web — including content marketing.
Increased exposure (e.g., more people see your website)
Reduced friction (e.g., Amazon's one-click checkout)
Increased incentive (e.g., buy one, get one free)
Pricing your online product is not an easy task at all. If you price too low, you may miss out on opportunities. If you price too high, people won't come. As for almost anything else online, you need to test and see what fits best. Find here a few strategies you may exploit to make better decisions.
HONORABLE MENTIONS
We can't always fit it all but we try to include it all.
This blog post by Kristi Hines — freelance writer, professional blogger, and ghostwriter — goes through a few techniques you may start using now to increase traffic to your own website. Whether you have a one-page website, or a multi-page site, the strategies outlined here may serve you well.
This enticing slideshare will show you how to make your e-commerce store better. You'll soon discover: 1) the 5 types of e-commerce shoppers that may visit on your store, 2) their unique habits and behaviors, and 3) the strategies you may implement to make them happy.
Raising money is a sales process. Michael Staton, an entrepreneur turned investor shares his actionable advice on how to be prepared for an investor. Following his advice will make it easier for a champion of your business to socialize your deal within their partnership.
reccommended videos
Choise a Topic:
related

videos