Get caught up on what you might have missed in the week with The Friday Reload.  We hand-curate the best posts, news and videos of the week.
For the week of October 24th, 2014
NEWS RELATED
Apple Maps
Simply put stop ignoring Apple Maps when it comes to your own business or a client's business.
We have more than a few articles focusing on Apple Maps this week.
5 easy steps and it's done.
Justin Mosebach an Internet Marketing professional with YDOP – Internet Marketing just sent in the very helpful tip for Apple' Maps Connect:

Interestingly, if the phone call with the code doesn't work the first time, you have to wait 1 minute until you re-try it. If that next try doesn't work, you have to wait 5 minutes until the next try (and then 25 minutes after that).

However, I discovered a trick that if you log out and log back in, the wait time goes away and you can immediately try again.

After trying around 9am (with no success), I was able to claim our listing a few minutes ago. You just have to wait like 5-10 minutes or more for the call to come through with the verification code. I assume it's slow because of everyone and their uncle trying to do this at the same time.

I was not given any type of option to verify the listing by an email address with the same domain as the business (as the Search Engine Land article alluded to).
Over 671 categories to choose from.  They put together a list and put it on Google Drive.
Just because it's not Google, doesn't mean it isn't important.
This case study featured Talentsquare's move from sharing articles on their company blog to creating more original content directly highlighting their brand voice and expertise. As a result, overall social engagement via likes, comments, shares and clicks to Talentsquare's company blog posts have increased 61.2%.
Original content wins ladies and gentlemen.  Yes I realize the irony of saying that while curating other people's content.
Audience retargeting works in apps and across websites on iPads and iPhones in iOS 8.
In its first revenue producing move, company posts a 19-second horror movie trailer.
It'll be interesting to see how Snapchat holds up when ads come in.
Moving on from news related stories and jumping into the rest of the Reload.
If you're doing content marketing YOU HAVE to be using these content upgrades.  I've been slacking but they'll likely be a part of every Reload moving forward.
Firstly, there's no magic "lead magnet" or "secret" in the download. What people are getting is a PDF download of the post THEY ARE ALREADY READING. They could just read the blog post, but people are still attached to downloading, printing and in a little way, "owning" content. Feeling like it's safe and secure. Downloading a PDF allows them to do that. A hat tip to James Schramko for the idea to use a PDF transcript of the blog post as the downloadable the user opts-in for.
The point here is that you don't need to create a crazy incentive for your readers to opt-in. If your content is good, they will – even when the information they are opting-in for is already available to them!
Secondly, the opt-in rates are really high with LeadBoxes. Getting opt-in rates like 79% and 73% without creating any additional content is INCREDIBLE.
Webinar Hack
Giveaway Hack
Guest Post Hack
Two-Sided Incentive
Exit Popup Hack
Retargeting Hack
Drip Campaign Onboarding
Invite Only Hack
Live Survey Hack
I love this post because I'm certain most people here have never used Reddit Ads, yet here's a guy who made his first $1,000 using them.
He sells a 'box' monthly featuring prime cuts of beef jerky and spent around $400 on Reddit Ads and made $2,200 in revenue.
The whole process and outline is worth reading, even if you aren't looking at spending any money on Reddit Ads anytime soon.
Every AdWords manager dreams about achieving conversion rates over 10%, especially when the average AdWords conversion rate runs about 2.5%. So, for me, any time I can push a campaign conversion rate over 10%, it is like hitting the AdWords jackpot!
So when I managed to achieve an incredible 45% conversion rate across an entire account, and managing it within 30 days of launching a brand new AdWords account, it made sense to detail exactly what I did in order to replicate it across other highly competitive industries too. Here is the case study with the campaign background, the challenges with the client and how I achieved that 45% conversion rate that first 30 days.
While on the subject of PPC let's talk holidays.
Tip: Capitalize on Timely Keyword Trends
Trap: Bid On a Keyword You Can't Afford
Tip: Location Targeted Bid Adjustments
Trap: Deliver the Wrong Landing Page Content to Location-Targeted Visitors
Tip: Try Something New
Trap: Spend Your Entire Budget Trying Something New

Not all startups and small entrepreneurs have enough money to be spent on advertising these days. However, those who do have reasonable funds to invest should carefully think about what to write on their banner ads, to make sure that the ads achieve high CTR (Click Through Rate), and from people who genuinely are interested in discovering more. Follow can help you do that.
I love Follow and love what they did with this post.
Analyzing 8 Banner Ads of 8 Big Companies
Below here you may see a percentage summary of what we found out.
Do the ads have a specific offer in the title? 62.50% do.
Do the ads mention a benefit? 62.50% do.
Do the ads mention a feature? 50.00% do.
Do the ads include a specific CTA (Call to Action), clear enough that makes a reader understand what happens after clicking? 87.50% do.
Do the ads include the company logo? 100.00% do.
Do the ads have a teaser, supporting message for emphasis? 75.00% do.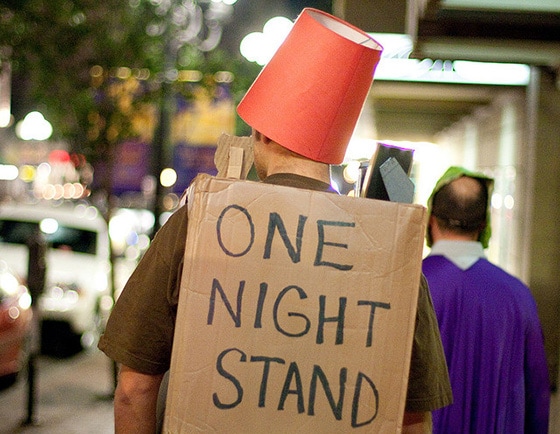 A conversion shouldn't be a one-night stand. After the initial conversion, you need to continue to nurture that relationship. Image source.
Focus on Customer Service
Exceed expectations with unexpected surprises – Love the Facebook share there.
 Incorporate upsells into your offers
Keep the conversation going with marketing automation
Gather feedback to improve products
TOOL TIME
Search the best free stock photo websites in one place.  
The image above was found using Stock Up.
The great part about this site is the search feature.  There are plenty of great stock photos out there but navigating them can be difficult.
P.S. If you have an iPad you can create beautiful things as well.  Check out Paper and Pencil by FiftyThree.
Get signups, fans, and introductions
After sending 300 cold emails with Lukewarm, 19% of my recipients responded with interest.
Cold email is so hot right now.
A free course on User Behavior.
Looking to launch an infographic?  Smart move.  Now use these slides to make sure it goes well.
1. 4 Tips before you start
Never sell to cold leads.
You need a big audience.
Track the entire funnel
You'll need a few tools to conduct an efficient A/B test for your Facebook ads.
2. All interests targeting options are not created equal
3. Men & Women- we're all equal, but…
4. Age matters
5. Not everyone speaks English
6. Spend time optimizing your landing pages

According to a study of 3,000 mobile searchers by Google & IPOS, nearly half indicated that they are more likely to convert elsewhere if they can't call a business directly from the search result.
Check out the original post for more info on turning your mobile pages into call generators.
Last week, Google announced that Custom Affinity Audiences is available for everyone on the Google Display Network. Google's Custom Affinity Audiences gives advertisers more flexibility in how they target across the Display Network. It's been a busy few weeks for advertisers with the release of new targeting toys; In addition to Google's announcement, Facebook also recently announced their Audience Network expansion. In this post, I will share my insights on how Custom Affinity Audiences will impact you as an advertiser.
What is it?
Custom Affinity Audiences allows advertisers to reach the exact people they are looking for as they create the audience parameters. This feature is the culmination of two years of Google launches, including affinity and in-market audiences.
Affinity – Someone with a strong history of viewing a subject, i.e. a technophile
In-market – Someone who is actively browsing, researching or comparing the types of products you sell, i.e. a new technology
Now, Google is providing advertisers with this information in a way that allows them the ability to define their audience with a combination of interests and sites.
HONORABLE MENTIONS
Ciao!
It's not goodbye, it's see you again soon!