Monthly Reload #39: How I Got 6.2 Million Views and 144,920 Followers, 30 Actionable Tips to Increase Traffic, Increase Email Reads by 75%, $2,000 in 5 Days Without A Business Idea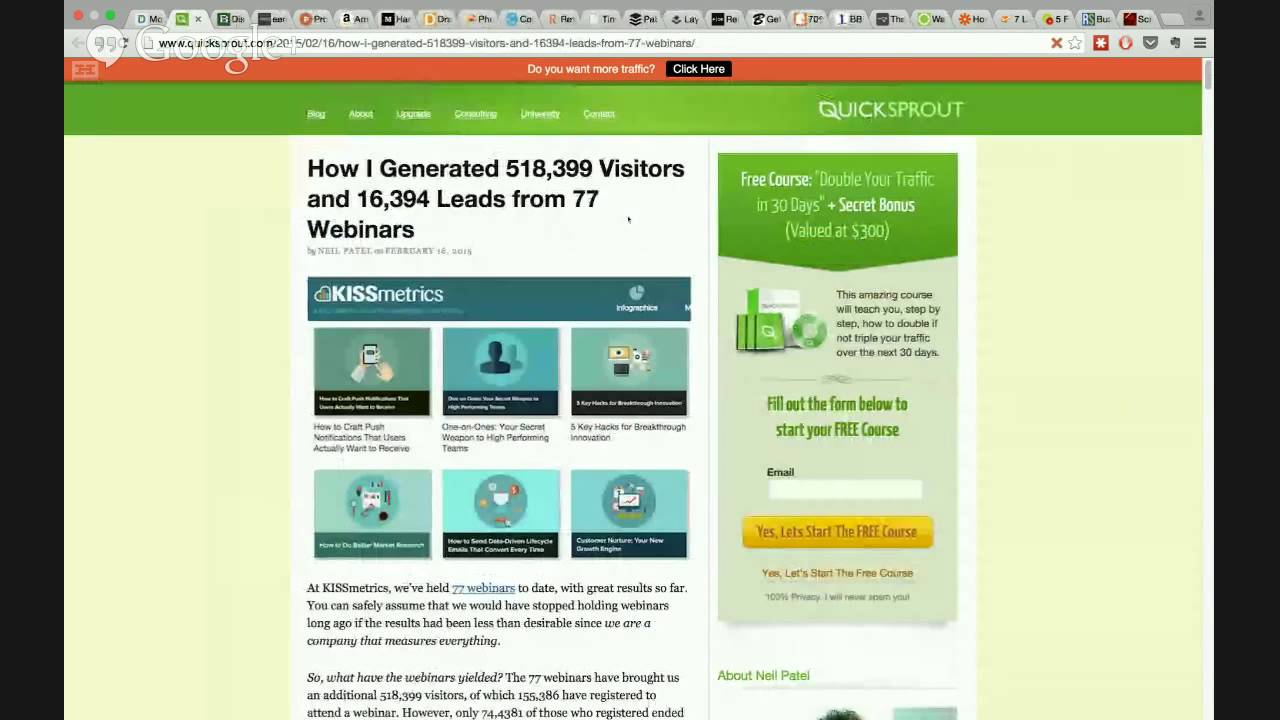 Get caught up on what you might have missed in the month with The Monthly Reload. We hand-curate the best posts, news and videos of the month.
For the month of March 2015
NEWS RELATED
Big changes to Google's search algorithms are coming: beginning April 21, the company will increase the ranking of sites that are mobile-friendly and surface app results much higher.
"To check how big of an impact that this may have on your organic traffic, log into analytics and go to:
Audience > mobile > overview, apply a secondary dimension of medium and look for mobile organic traffic.
For anyone looking to go mobile friendly, I recently published a very detailed post on the steps that you need to take to do so."
– Terrence Mace
They can inform your viewers about other videos, merchandise, playlists, websites and more. They look as beautiful as your videos, are available anytime during the video and yes, they finally work on mobile."
"To track conversions, you'll need to promote some Pins first."
With conversion tracking, you can understand how your Promoted Pins are performing and get a clear idea of what they're doing for your business. A conversion is when someone does something on your website, like sign up for your newsletter or buy a product. Track your Promoted Pins to see how they're affecting conversions with a "conversion tag," a simple bit of code that you add to your web pages.
You can track conversions that result from 3 types of activity on Pinterest:
Clicks: When someone on Pinterest clicks your Pin and keeps going to your site (leaving Pinterest)
Engagements: When someone repins your Pin or clicks to see it close-up (staying on Pinterest)
Views: When somebody sees your Pin on Pinterest
"The Twitter plugin for WordPress optimizes your website for a Twitter audience."
The Twitter plugin for WordPress optimizes your website for a Twitter audience through easy to use sharing buttons, embedded Tweets, auto-generated markup indexed by Twitter, and Follow buttons to help grow your Twitter audience. All features are deeply integrated with WordPress APIs to make building your webpages and administrative features as easy as possible with the extensibility you expect from WordPress.
The DEFY Media's Acumen Report surveyed 1,350 youth, aged 13-24, on their mobile and social media usage, preferences and consumption. The study found that online video, viewed on sites like YouTube, is watched by 96% of youth at an average of 11 hours per week. By comparison, traditional TV is viewed by only 81% at an average of 8 hours per week. Also, slightly more than 6 in 10 of those surveyed say they would try a product or brand suggested by a YouTube star while fewer than half would try a product or brand suggested by a TV or movie star.
The Marketing Budgets 2015 Report, published by Econsultancy in association with Oracle Marketing Cloud, surveyed marketers at over 600 companies between December 2014 and January 2015 on their priorities for the next 12 months. The report found that investment in digital marketing continues to grow, with 77% saying their companies intend to increase budgets in 2015. While 34% currently spend more than half of their marketing budgets on digital, restricted budgets for all types of marketing and a lack of understanding about digital are the top barriers to investing more money.
Leading toy manufacturer, Step2, partnered with a video marketing agency and retailers to showcase their products in action. Over time, they have found their video viewers are 174% more likely to convert than non-viewers.
TOP STORIES
Image by StudioSmart/Shutterstock
Yes, we all know that: People hate pop-ups. However, when used correctly, pop-ups just work! It's all about carefully watching and tracking the reader experience, without crossing the line of becoming annoying, repetitive, and pushy.
Read the full run down of New Relic became a billion dollar player in the 'software analytics' space.  This awesome break down from GrowthHackers covers how they gained initial traction and a few of the tactics they used.  Especially great if your company is trying to reach developers.
A 15-minute Guide to Blogging, Online Marketing, and Growth
This guide is for people who don't have the best writing skills or the budget to spend on clicks, but who need to grab the attention of their audiences through organic storytelling.
This is an article sharing what the author has learned, and please note, pageviews or followers count don't necessarily mean success or good content.
This is for people who believe that from their little desk in their little rooms from the middle of nowhere, they can generate more traffic and visitors than those companies with an army of writers.
This is to help you get read in an extremely noisy world and turn those readers into long-term members.
This post covers tips across four categories:
Part 1 — Before writing: Preparing for the storm & Setting the right engines in place.
Part 2 — Writing: Writing style and essentials of an article that will get huge traffic.
Part 3 — Ready to publish: Things to do when you are ready to hit the publish button.
Part 4 — Post-publishing: How to get into big media outlets, how to double your blog traffic with redistribution, , and some other channels no one thinks of.
1. Context is the killer advantage
2. There is no best day to send emails
3. Frequency is all about expectations
4. Copy length doesn't really matter
5. Images are worth a thousand words (sometimes)
Back in my Startup Jungle days I wrote and researched a bit about fundraising.  What I found out was that it's extremely difficult, consumes you and can sidetrack your business.
So when Andreessen Horowitz posted the 16 common questions about fundraising it was a must post.
No pretty pictures, just great information.
Many people in a creative field, myself included, have succumbed to the fantasy of the Idea Person
Sometimes I find an article or story that perfectly touches on something I think plagues many in our industry.  A 'disease' that keeps us from success.  Considering yourself an Idea Person is one of those issues.  Become a Follow Through Person if you ever want to succeed.
Also consider reading Gateless namely the Capacity section for more on the subject.
Tip #1 might be my favorite.  See the article for more.
Every website needs more traffic and sales. In this post, you will learn 15 effective strategies that will help you increase your blog traffic. You know perhaps many of those, but some are definitely original approaches.
How can you keep on top of channels as different as social media and email? And how can you do so in the most efficient way possible? Explore here a number of ways to integrate social media and email marketing to help save you time and let you reach your audience where they are.
Bryan Harris details a new technique he's been using which can increase the number of people that read your email by 75%.

6 months ago I wrote an article outlining the simplest way I know to make money (online or offline).
And guess what?
One person read that article and ACTUALLY IMPLEMENTED WHAT HE READ.
Shocking, right?
While you were all passively reading and dreaming about what life could be like, this guy actually got off his butt and did something.
My new friend Jonathan took the steps laid out in that blog post and hustled his face off.
Within five days…yes, FIVE DAYS…of reading that article, he had started his new company and generated $2,100 in sales.
That was more than he used to make in an entire month of work.

Infographics do extremely well
People enjoy reading personal and controversial stories
Timing does matter
Guides rank better than posts (but for a different reason than you think)
People love data
Descriptive headlines perform better in the long run
TOOL TIME

The Beginner's Guide to Conversion Rate Optimization (CRO) is an in-depth tutorial designed to help you convert more passive website visitors into active users that engage with your content or purchase your products.
All SEOs need tools to effectively do their job and give their clients results.
But with all the SEO tools out there, how can you possibly keep track of them all?
Luckily, we're here to help!
We've brought together a massive list of over 200 of the best SEO tools, including links to the website, a short description, function, and whether or not it is free/paid.
What's that? "Yet another compendium of Atari-era marketing tactics!" we hear you softly groan to yourself.
"Aren't there enough guides on growth hacking floating about the internet already?", you then rightfully ask aloud. "There's blah and blah and blah, and then there's also blah, blah, blah". Agreed. No, really, we know that and – just like you – we've read most of them.

Momentum – Forming new habits is easy with Momentum.

Get paid via $cashtags for things you do online or in person.

MORE STORIES

A company that has been doing very well in the last few years is LeadPages. The firm went from 0 to 25K paying customers in less than 2 years. This article explains a few strategies LeadPages used in the past to grow so much in such a short period of time.

"The first step to successful free trials is knowing what 'success' is for your customers." Des Traynor on how to help customers succeed during free trials.
This is the first part of our guide to programmatic advertising. In this first part we explore programmatic versus traditional advertising models and pique your interest for more detail in part two.
According to this article, "50% of consumers make a purchase only when an offer or promotion is involved." Promotions can be a very powerful tool that can help you encouraging your customers all the way along your funnels right to your checkout page where there is a promotion offering them a reward for making the purchase.
1. How to set up your blog so it generates thousands of social shares (and passive traffic)
2. How to optimize your blog for maximum social engagement
3. How to generate over twelve thousand visits from social media with a handful of blog posts
4. How to do it all without opening your wallet

When you think of my name, Neil Patel, what comes to mind? You probably see me as a marketing guru or as an expert who is good at driving traffic to websites.
Although that's true these days, I've made a lot of marketing blunders over the years. Luckily, most of these blunders affected my own business, so it was me who lost money, and not my clients.
Nonetheless, I've made 10 huge mistakes that have cost me a lot of money – in fact, the cumulative loss from these marketing blunders is so great that it runs well into the hundreds of millions of dollars.
When you land on a website, do you end up reading all of the text on the page? The chances are, you don't.
Only 28% of written website text is read on average.
Easy sharing powered by Quick Sprout TWEET
So why not put an explainer video on your site? It could be an easy way to convert more visitors into customers.
When we added one to Crazy Egg, it helped us make an additional $21,000 in monthly income.
So, how do you create an explainer video that will increase your conversion rate? In order to help you out, I've created an infographic that breaks down the process of creation of the perfect explainer video.
Tip of the Week: Discover the Origin Story of Your SaaS Category
I grew up surrounded by comic books, tv shows and movies about superheros. I always found a superhero's origin story to be the most important part. It explains the character's history to help the audience connect with her. How it all started and how she came to be the way she is today.
You can view business categories in a similar way to a superhero's journey. They usually start with people building tools in-house to get a specific job done. Somebody then starts the first business focused on helping people get that job done better, faster and cheaper. Then more people come into the category, it evolves and the rest is history.
As part of my product talk at Yelp a couple of weeks ago, I included a few slides about the origin story of A/B testing. It's a SaaS category that's on my mind and I've been recently documenting it's history.
The team at KISSmetrics, where I am co-founder and a board member, recently switched to Slack from HipChat. This got me thinking more about the category of team communication and it's origin story. It's a SaaS category where I've used all the products that have existed. My thinking resulted in a tweet and the urge to write a currently unpublished blog post.
We're all creating new things out of nothing. History can play an important role in helping us decide what to do and what not to do with our own initiatives. Finding the origin story of a category enables you to understand it's evolution and helps you form a point of view about what's next.
What's the origin story of your business category?
HONORABLE MENTIONS